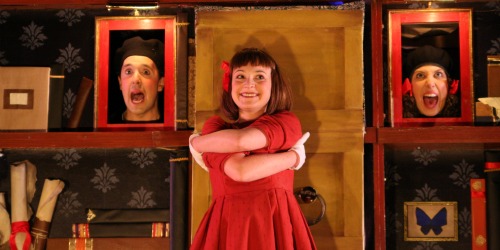 Who's ready to fall down the rabbit hole with Alice and visit Wonderland? We are!
This Walton Arts Center show, scheduled for Saturday, Nov. 5, looks absolutely wonderful. We've got FOUR tickets so you can experience the tardy rabbit, a grinning cat, along with Alice and the rest, brought to life by Théâtre Tout à Trac.
You'll also win dinner to U.S. Pizza! Love us some U.S. Pizza!! The ticket winner will get a gift certificate to feast on delish pizza after the show. If you haven't experienced U.S. Pizza pizza yet, we'll tell you that we really adore the famous crust and sauce. It's crave-worthy and has netted U.S. Pizza a very loyal fan base of customers over the years. They have a new phone app so you can order your favorite pizza anytime. Their salads and sandwiches are amazing, too. Click here  or on the logo below to see their menu.

ABOUT THE SHOW: This imaginative adaptation of Lewis Carroll's 19th century classic Alice's Adventures in Wonderland, unites actors and puppets to tell the story of Alice's journey down the rabbit hole. Expect a whimsical stage set, conceived as a pop-up book, and beautiful costumes. This production was a winner of the Acadie-RIDEAU award at La Soirée des prix RIDEAU 2008.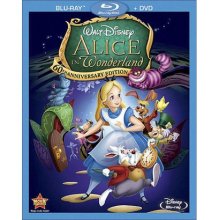 The company's production of Alice in Wonderland presents a unique reading of the classic that is still faithful to the spirit of the tale created by Lewis Carroll, with all the craziness, freedom, playful language and comic twists of the original.
Since 1998, Théâtre Tout à Trac has been exploring theatre through various mediums such as masks, tales and puppetry, never limiting itself to one specific method. Pursuers of imaginary lands, digging in invisible worlds and exploring a universe where the impossible is possible, the French-Canadian theatre company is known for bringing to life the most wonderful stories.
HOW TO ENTER: No forms to fill out, no hoops to jump through, just like you like it! Just click on the orange comment button at the bottom of this post and tell us about the craziest or most marvelous vacation (or adventure) you ever experienced. For example, you can tell us about your honeymoon or the last girls trip that ended with one of the friends being rushed to the ER because she was allergic to shellfish (that really happened to my sister). You'll be asked for your email when you comment, but it doesn't show up for everyone to see. We'll just use it to let you know if you win this great giveaway!
HOW TO INCREASE YOUR ODDS: As always, we reward mamas who help us spread the word about cool giveaways here on nwaMotherlode.com. Just email your friends/family to let them know about the giveaway and be sure to put giveaways@nwaMotherlode.com on the CC line of your email so we can give you proper credit. We'll give you an extra chance to win for every friend you tell.
Good luck in the giveaway! And remember you can still buy tickets to this show by calling the Walton Arts Center box office at 479-443-5600 and asking about ticket availability.