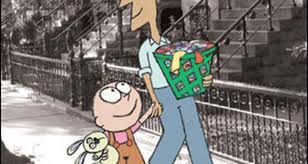 This week our friends over at Walton Arts Center are hooking up one of our readers with FOUR tickets to give away this week to a great kids show musical called Knuffle Bunny on Sunday, November 6th at 2 p.m. If the name sounds familiar, you might be remembering that Knuffle Bunny actually began as an award-winning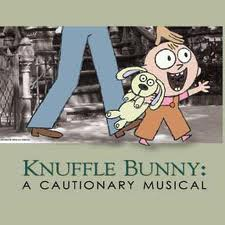 children's picture book by Mo Willems. The performance will take place at the Pat Walker Theater at Springdale High School, so we're pairing this family four-pack of tickets with a gift card from one of our favorite places to eat in Springdale — Marketplace Grill. Yum.
ABOUT THE SHOW: Knuffle Bunny is a story about firsts — a little girl's first words, a stuffed animal's first trip to the laundromat, and a Daddy's first time dealing with a child who goes "boneless". The musical is full of adventure, music and gigantic dancing laundry. (We don't know about you, but the idea of gigantic dancing laundry sounds a whole lot better than sitting at home while doing the same old boring laundry.)
This is an infant-friendly performance, and the musical itself is actually geared for kids ages 3 and up. (My second grader remembers reading this book and is really excited about this show!)
ABOUT THE FOOD: Marketplace Grill is near and dear to our hearts for a few reasons. First, Shannon and I got together at Marketplace for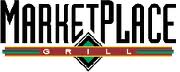 lunch in late 2007. While munching on chips and an awesome bowl of spinach dip, we discussed ideas for starting this website. We kept on meeting at Marketplace every few weeks as we prepared to launch nwaMotherlode.com. We launched the site in 2008, and we are STILL using Marketplace as our "office away from home" for business meetings, planning sessions and celebrations with friends.
The second good reason we love Marketplace is the food! We're big fans of the spinach dip, the Jambalaya Pasta, the Cobb Salad, the awesome pizzas, the Texas Grill and so much more. And we have nearly drowned ourselves in glass after glass of the Marketplace sweet tea. And don't even get us started on the famous Chocolate Mess dessert. If you haven't eaten one, you are seriously missing out. It's incredible.
The winner of the four Knuffle Bunny tickets will also receive a $30 gift card to use toward lunch or dinner at Marketplace Grill before or after the show.
HOW TO ENTER: Knuffle Bunny is about a stuffed animal who is lost and then found. So to throw your name in the online hat for this drawing,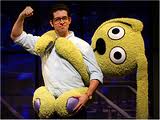 click on the orange comment button below and tell us about something you or your kids have either lost or found (or both). For example, during a family vacation my son Jack once left behind his lovey — a red stuffed octopus named "Otty" — and we had it shipped back to us all the way from Minnesota. Oh, it was a joyous day at our house when the beloved Otty came home. Now it's your turn!
You can also enter via email by sending your answer to giveaways@nwaMotherlode.com.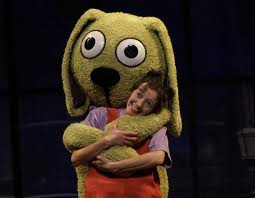 HOW TO INCREASE YOUR ODDS: As you know, we really appreciate it when mamas help us spread the word about a fun giveaway here on the website. We'll give you an extra chance to win for every person you tell. So just send an email to your friends to let them know about this giveaway, and be sure to put giveaways@nwaMotherlode.com on the CC line of your email so we can give you proper credit.
For more information on how you can get tickets to this show, click HERE or call the Walton Arts Center Box Office at 479-443-5600 for ticket availability. Depending on where you sit, tickets sell for between $8 to $16. Enjoy the show!