If you're ready to truly see a world of wonderment and fantasy, Slava's Snowshow will take you there.
A bed becomes a boat in a storm-tossed sea; a woman is wrapped in cellophane and becomes flowers in a vase, a child walks in amazement inside a bubble, Slava boards a train and he becomes the train itself.
And be prepared to leave the WAC hall in ankle-deep snow!
How would you like to go to this "cool" show for free? Good. We'll give TWO winners FOUR tickets each to see the show on opening night!
ABOUT THE SHOW: Walton Arts Center will be transformed into a snowy, winter wonderland with Slava's Snowshow, an astonishing and awe-inspiring spectacle of traditional and contemporary theatrical clowning arts. There will be seven performances of Slava's Snowshow in Walton Arts Center's Baum Walker Hall.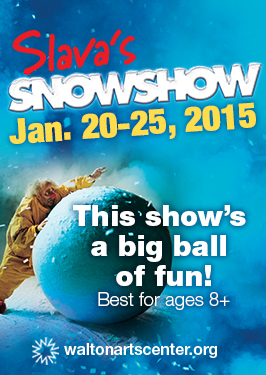 Show dates and times:
Tues. Jan. 20 – Thurs. Jan. 22 at 7 pm
Fri. Jan. 23 and Sat. Jan. 24 at 8 pm
Sat. Jan. 24 and Sun. Jan. 25 at 2 pm
Discover this (indoor) winter wonderland with your family. It's recommended for kids 8 and up.
"ONE OF THE MOST THEATRICAL MOMENTS I HAVE EVER EXPERIENCED" – THE GUARDIAN
"UTTERLY BREATHTAKING, THE STAGE EFFECTS ARE DAZZLING…SUDDENLY THE AUDIENCE IS YOUNG, INNOCENT AND TRANSPORTED WITH DELIGHT." –DAILY MAIL
HOW TO ENTER: If you'd love to win one of the sets of four free tickets to Slava the clown's snowshow, just click on the words "post a comment" below and tell us about an event or an experience that was absolutely awe-inspiring. It could be first time you went to the circus — or even something that was scary, like a tornado. I remember a tornado passing overhead one year on Christmas Eve while we were at my grandparents' house. It was definitely awe-inspiring.
INCREASE YOUR ODDS OF WINNING: If you'd like to increase your odds of winning, just email friends and family about the giveaway and CC us so we'll be sure to give you credit. We'll give you an extra chance to win for each person you tell. The email is giveaways@nwaMotherlode.com.
(You can also earn an extra chance to win by signing up to receive the free email newsletter we send once a week. Click here to sign up.)
BE SOCIAL: You can also earn extra chances to win by commenting on our Facebook page, following us on Twitter or following us on Pinterest. If you do any of those, just mention it in your comment or email so we can give you proper credit.
Ticket prices range from $30-60 and can be purchased by calling the Box Office at 479.443.5600 or by visiting waltonartscenter.org.
Good luck, mamas! We'll choose a winner on Friday, so watch your email inbox.