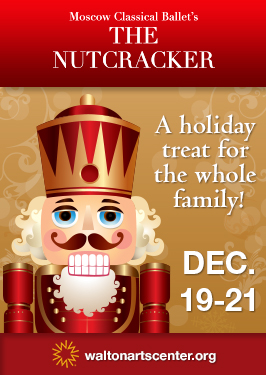 Note from the mamas: Congratulations to Kathleen Villar, winner of The Nutcracker tickets!
It's that amazing time of the year when Clara, the Sugar Plum Fairy and the Mouse King (not to mention many, many others!) take to the stage to delight and entertain audiences for the holiday season.
Moscow Classical Ballet's The Nutcracker will be showing at Walton Arts Center on Dec. 19-21 and we're giving away FOUR tickets to the opening night show!
This is the fourth time the WAC has brought this show to Northwest Arkansas and we're so grateful! This is definitely a beloved holiday tradition and a must-see for the whole family. There will be four performances in Walton Arts Center's Baum Walker Hall on: Friday, Dec. 19 at 7 pm., Saturday, Dec. 20 at 2 pm and 7 pm, and Sunday, Dec. 21 at 2 pm.
Auditions were recently held for children ages 6-10 to be part of the show and 12 local children were chosen to participate in all four performances. Though formal dance training was not a requirement, many of the children take lessons at studios across the region, including Bakstage Dance Co., Williams Center, and Elite Dance Studio.
Congratulations to these local performers:
Alizabeth Grace McGinnis
Anna Caroline Johnson
Avery McFadden
Brooklyn Bradley
Ella Grace Cotton
Gracie Hollis
Julia Ragon Watts
Lawson Hooker
Rylee Ann Adams
Sloane Pitts
Wryn Pitts
Zoe Hahn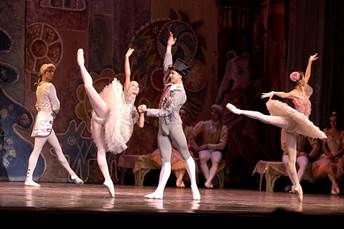 ABOUT THE SHOW: The Moscow Classical Ballet gives a stunning presentation of Tchaikovsky's classic Christmas ballet, featuring Russia's finest dancers and all the beautiful scenery and costumes you've come to expect – audiences of all ages will be absolutely enchanted.
This brilliant dance troupe has won numerous gold medals from international competitions and awards from the esteemed Paris Academy of Dance. The holidays simply aren't complete without experiencing this live performance.
HOW TO ENTER: If you'd love to win tickets to The Nutcracker, click on the words "post a comment" below and tell us about a favorite holiday tradition you remember from when you were a child — or one you enjoy with your own kids.

INCREASE YOUR ODDS OF WINNING: If you'd like to increase your odds of winning these tickets, just email friends and family about the giveaway and CC us so we'll be sure to give you credit. We'll give you an extra chance to win for each person you tell. The email is giveaways@nwaMotherlode.com.
(You can also earn an extra chance to win by signing up to receive the free email newsletter we send once a week. Click here to sign up.)
BE SOCIAL: You can also earn extra chances to win by commenting on our Facebook page, following us on Twitter or following us on Pinterest. If you do any of those, just mention it in your comment or email so we can give you proper credit.
Tickets range from $33 to $47 and can be purchased by calling the Box Office at 479.443.5600 or by visiting waltonartscenter.org. Good luck, mamas! We'll choose a winner on Friday at 5 p.m.!