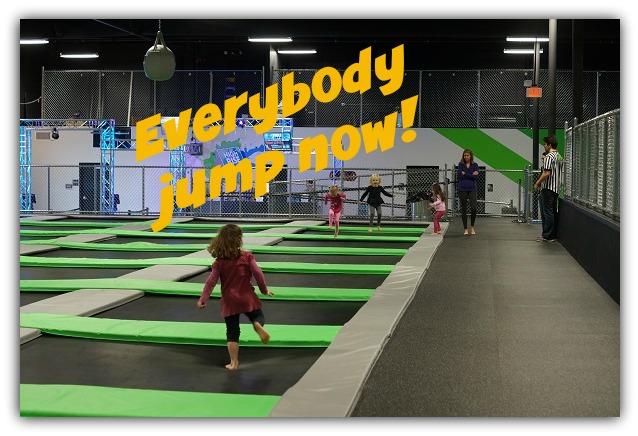 Guest review by Kathleen Villar, NWA mama of 3
Recently the Fayetteville MOMS Club had a meetup at the new trampoline park in Rogers, High Rise. It was about a 20-minute drive for me to get there.
After looking at the website, we decided that the Kid Jump Hour Mon-Sat from 9-10 am would best fit our group. Kids 6 and under pay $10/hour to jump and the accompanying adult is free. See their website for all fees and jump times.
We got there ten minutes early in order to check in and sign the waivers. They were cleaning all the trampolines and floors prior to us jumping, which was nice to see. There are kiosks at the front door to use to sign the waivers and then you pay admission at the front desk where you receive a colored bracelet.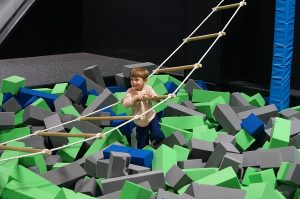 Ours were white and although they fit the adults, they kept coming off the smaller kids (one disappeared in a foam pit to the child's dismay). There were plenty of employees to get us all checked in and they are easy to spot because of their referee shirts.
Before we entered the trampoline area, one employee went over the rules with the group. You must take off your shoes and socks to jump, no double bouncing, etc… There are little cubes to stash your shoes and belongings in, but I didn't see hooks for coats.
The kids bounced and bounced and bounced. They had so much fun sliding, running and flinging themselves into the foam pits. The hour flew by quickly for me since I was chasing my child everywhere and all the kids in our group were dismayed when the hour was up. They announced over the loud speaker that all jumpers with white bracelets needed to exit.
We did use the restroom while we were there. It was clean and had a changing station which was nice. Also, get a frequent flyer card punched and earn your way to free flight time.
TOP PROS/CONS
Pros:
1. Great way to expend energy with little ones this winter. Cora was EXHAUSTED after just one hour and I know she wanted to stay longer.
2. The Kid Jump Time is amazing and to me a must if you have small kids. There was plenty of employee supervision for the small number of people who were there too.
3. Very clean and the equipment looked to be in great condition.
Cons:
1. It's a little pricey. If I brought my 6 and 4 year old together, it would be $20 for one hour. Jumping during regular hours is not better price wise either. It is fun to spend some time with your kids, but I am not sure I would drive all the way up here for one hour at that price.
2. I can't imagine jumping when it is crowded and there are larger children and adults around. It seems like it would be dangerous. I would not bring my little kids to an open jump time till they were much older (8-10) or I knew it would not be crowded.
Note from the mamas: High Rise is not a Motherlode advertiser and Kathleen wasn't given anything free at the trampoline park to write this review. The opinions are her own. 🙂