NOTE: This giveaway is now closed. A winner has been chosen and will be announced soon.
Walton Arts Center will turn Vegas circa 1960s with the arrival of The Rat Pack — and nwaMotherlode is sending one lucky couple to the Sunday, Dec. 13, performance for a Great Date!
THE RAT PACK IS BACK FOR THE HOLIDAYS is a show that remembers a time when skinny lapels dominated men's fashion and crooners reigned supreme. There will be eight performances in Baum Walker Hall, December 8 –13.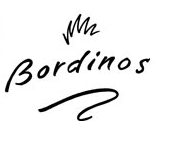 A date night always includes dinner, right? This special evening will include dinner at one of Northwest Arkansas' favorite date-night restaurants, Bordinos, so it's going to be a package deal! Click the Bordinos logo to see their extensive menu, which includes everything from beef tenderloin to pastas and risottos to tiramisu.
Want to win? Just click on the word "comment" at the bottom of this post and tell us what you like best about Walton Arts Center or Bordinos. Increase your chances of winning the date by sending an e-mail to your friends/family, and we'll give you an extra chance for each friend you tell. Just be sure to put giveaways@nwaMotherlode.com on the CC line so we know you did!
About the show: THE RAT PACK IS BACK recreates one of the famous "Summit at the Sands" Las Vegas hotel shows, when the ring-a-ding group known as the "Rat Pack" was making hipster history with a no-holds-barred nightclub act. Highlighted by the smooth, free-wheeling sounds of Frank Sinatra, Sammy Davis Jr., Dean Martin and Joey Bishop, audiences can watch, listen and remember a bygone era like never before.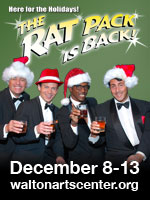 According to the Las Vegas Sun, "This is as close as anyone has come to capturing the real thing."
Produced by Dick Feeney (Viva Las Vegas, Showgirls, The Great Gleason), this energetic tribute features vocal recreations and humor combined with the period perfect portrayals of Vegas' favorite sons. With the help of a live 12-piece orchestra, audiences can groove along with the performers to familiar hits like "That's Amore" and "My Way."
With a cast of talented actors and vocalists, THE RAT PACK IS BACK is the ideal portal to the posh charm of Sin City's yesteryear. Playing the part of Ol' Blue Eyes is long-time Sinatra aficionado Brian Duprey. Veteran entertainers Johnny Edwards and Kenny Jones take on the roles of Dean Martin and Sammy Davis Jr. while Mickey Joseph brilliantly captures Joey Bishop.
Tickets range from $30.50-$48.50 and can be purchased by contacting the Walton Arts Center's Box Office at 479.443.5600 or by visiting waltonartscenter.org.
Below is a picture of nwaMotherlode winner Amy Brown and her daughter, Olivia, at the Walton Arts Center Peter and the Wolf show! Amy and her husband decided it would be too much for their 14-month-old son, so Amy and Olivia invited their friends Holly and Ivy to join them on a "little double mommy date"!