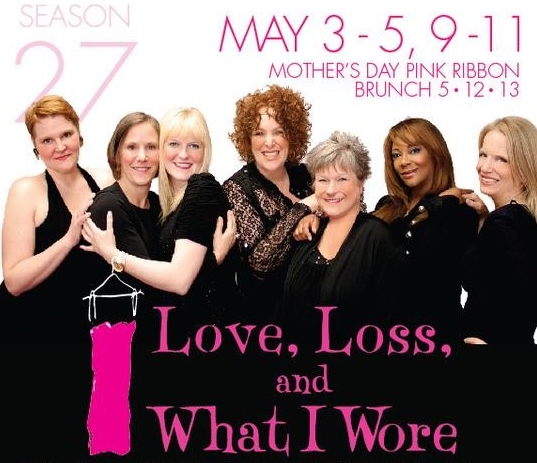 This week we've got two show tickets to a performance tailor-made for women. The show is called "Love, Loss, and What I Wore," and has already been delighting audiences at the Rogers Little Theater. Based on the Ilene Beckerman book by the same name, the show is a play of monologues and ensemble pieces about women, clothes and memories of all the important topics — mothers, prom dresses, mothers, buying bras, mothers, hating purses and why we only wear black.
This show does contain adult language so don't bring the kids along to this one, but a best girlfriend is highly recommended.
Love, Loss, and What I Wore opened last week and we're hearing rave reviews of last weekend's performances, so be sure to see it this week (performances this Thursday through Sunday) while you still have a chance. The show also has a dinner service that begins at 7 p.m. with the show starting at 8 p.m. The Sunday matinee performance has dinner starting by 1 p.m. and the show starting at 2 p.m.
HOW TO ENTER: To throw your name in the hat for the show tickets, click the "post a comment" link below and give us your opinion on one of the show topics mentioned above — mothers, prom dresses, buying bras, hating purses or why we wear black.
You can also email your answer to giveaways@nwaMotherlode.com. Remember that giveaway winners are always chosen at random among all entries.
HOW TO INCREASE YOUR ODDS: To increase your odds of winning the show tickets, email your friends and family to let them  know about this giveaway. Just be sure to put giveaways@nwaMotherlode.com on the CC line of your note so we can give you pr

oper credit.
BE SOCIAL: Spread the word via social media and we'll give you extra chances as well. Just share the giveaway with your friends on Facebook (click here to go see the post on our Facebook page and share from there) or share about the giveaway on Twitter to increase your odds of winning. If you do either of these things, just let us know in your posted comment or send us an email so we can give you proper credit.
TO RESERVE TICKETS: If you'd rather not leave your show tickets up to lady luck, click HERE to go to the Rogers Little Theater website and purchase tickets.