We all know that when a movie is REALLY good, movie producers almost always make a sequel. This summer is proof, with lots of sequels (and prequels) at the theater,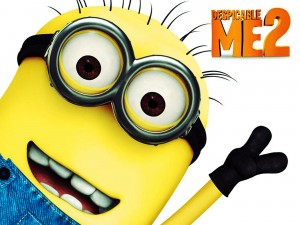 including Despicable Me 2, Man of Steel, Monsters University and lots more.
So we're following that lead by doing a sequel on last month's popular giveaway of four Malco movie passes, four kids' Summer Film Fest passes and TWO free gallons of Hiland ice cream — winner chooses her favorite flavors. So if you'd love two free nights at the movies as well as a few free matinees with the kids — and ice cream to enjoy after the show — this is definitely a sequel you'll want to check out.
You can use the movie passes for adults or for kids, but do be sure that you use them to see a movie that doesn't have the "no passes" restriction attached to the listing. And don't worry because most movies will allow passes, especially after they've been in theaters for a few weeks. It's typically the brand new releases that are pass restricted.
The movie passes can be used at ANY Malco theater and there's a Malco location in most of the major cities in Northwest Arkansas. You can check out where all the Malco locations are by clicking HERE.
As for the Kids Summer Film Fest passes, each pass will get two kids into one of the Summer Film Fest movies. These movies are shown on Tuesdays and Wednesdays at 10 a.m. at Fayetteville's Razorback Cinema and Rogers' Pinnacle Hills theater location during June and July. They're not new movies, but they are definitely kid favorites. (And let's face it. Kids LOVE watching their favorite shows over and over, especially if there is popcorn and candy involved.)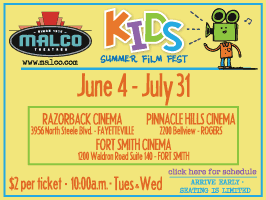 Even if you don't have a free movie pass, the Kids Summer Film Fest movies only cost two dollars per kid so it's definitely still affordable. A movie matinee is a great way to get out of the house, have some fun and still stay cool on the hottest summer days.
We don't think we need to convince you of the merits of free ice cream. Kind of speaks for itself, right? But we can tell you that ice cream tastes even better when you take it home for free — any flavor you like. And two free gallons should keep you and your spoon busy for at least a few weeks, right? Some of our favorite Hiland Dairy ice cream flavors include Butter Pecan, Chocolate Moose Tracks, Cookie Overload and Cherry Vanilla. They're SO good. See the rest of the Hiland Dairy flavors by clicking HERE:

HOW TO ENTER: To throw your name in the online hat to win the movie passes and ice cream gift certificates, click the words "post a comment" below and tell us what your all-time favorite movie SEQUEL is and/or your favorite flavor of ice cream. You can also email your answers to giveaways@nwaMotherlode.com.
HOW TO INCREASE YOUR ODDS: To increase your odds of winning this summer fun package, email your friends and family to let them know about this giveaway. Just be sure to put giveaways@nwaMotherlode.com on the CC line of your note so we can give you proper credit.

BE SOCIAL: Spread the word via social media and we'll give you extra chances as well. Just share the giveaway with your friends on Facebook (click here to go see the post on our Facebook page and share from there) or share about the giveaway on Twitter to increase your odds of winning. If you do either of these things, just let us know in your posted comment or send us an email so we can give you proper credit.
We'll choose the winner this Friday so be checking your inbox in case YOU get the great news!

Good luck and Happy Summer!