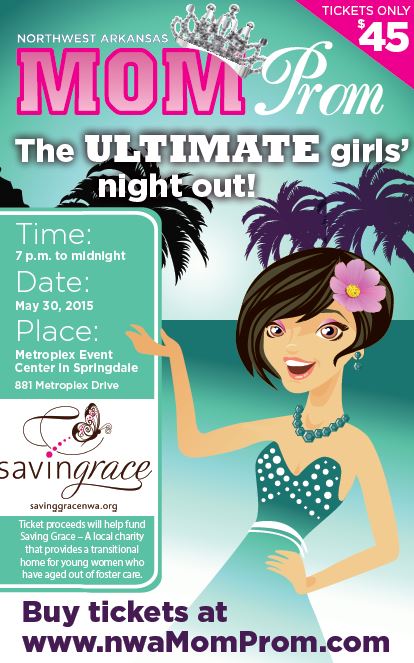 WOW. The NWA Mom Prom is only about six weeks away!
It's going to be such a blast and we'd love to have you there. So we're giving away FOUR tickets so one lucky mama can go and bring three of her favorite friends.
WHAT IS MOM PROM? Ladies (you don't have to be a mom to attend!), NWA Mom Prom is a massive girls' night out, intended for women and mothers age 21 and up.
It looks and sounds just like a real prom, except we ditched all the teenage drama and angst and left only the fun stuff. This is the PERFECT opportunity to dress up, go out with your friends, eat, dance, laugh, have professional and photo booth photos made with your buddies, AND possibly win one of the amazing raffle prizes featured at Mom Prom.
We don't want to forget that one of you could also win the title of NWA Mom Prom Queen 2015 (hey, that rhymes!).
The Prom Queen will be chosen at random from among ALL the ticket holders, so anyone can win 🙂
There's no other event like this one in NWA. Although Mom Proms happen across the country in various cities, this is the ONLY one in the state of Arkansas.
A portion of proceeds go to support a local non-profit called Saving Grace, which helps girls who have turned 18 and have aged out of the foster care system. Without Saving Grace, many of these young girls would end up homeless.
HOW TO ENTER: If you'd love to win these 4 Mom Prom tickets, throw your name in the online hat! Just click on the words "leave a comment" at the bottom of this post and tell us which song you would LOVE to dance to at the prom! We'll collect all your suggestions and ask our DJ to play them all night!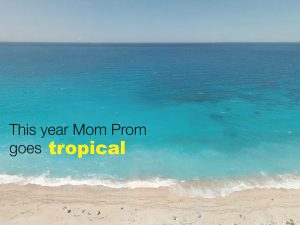 We know you'll help us make an AWESOME playlist of dance songs. The songs can be new or old — just as long as they make you want to get up and dance!
Since the theme is going to be "A Night in the Tropics", I'm sure we'll have to play Don't Worry, Be Happy!
You can also email your answer to us at giveaways@nwaMotherlode.com.
INCREASE YOUR ODDS OF WINNING: Help us spread the word about the Mom Prom tickets giveaway by emailing your friends and family about the giveaway. We'll give you an extra chance to win for every person you tell. Just be sure to put giveaways@nwaMotherlode.com on the CC line of your note so we can give you proper credit.
(You can also earn an extra chance to win by signing up to receive the free email newsletter we send once a week. Click here to sign up.)
BE SOCIAL: You can also earn extra chances to win by commenting on our Facebook page, following us on Twitter or following us on Pinterest. If you do any of those, just mention it in your comment or email so we can give you proper credit.
We'll choose a winner on Friday, ladies! If you don't want to take any chances, click here to buy your ticket now!