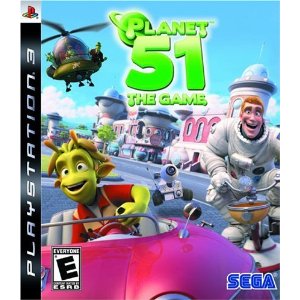 Editor's note: Comments closed. We have a winner. Congrats to Amy Helmich, mama of three!
Wanna score some serious "You rock, mama!" points with your kid? Or maybe even your husband?
If so, read on. Today we're giving away a Planet 51 Playstation 3 game ($49.95 value)! Thanks to Sony Pictures Home Entertainment for offering us this fun game to give away to a lucky nwaMotherlode.com reader! The Planet 51 game is based on the movie, which officially lands in Earth stores today on DVD and Blu-ray.
If you don't have a Playstation 3, I'm sure you can think of a friend or family member who would be thrilled to receive this game as a present. Even if our own kids call us meanies, we can always aspire to be the "fun aunt".
About the game: The Planet 51 game is an entertaining mission-based driving game with various characters from the film available to play. The game allows audiences to immerse themselves into this amazing vibrant world and experience the fun Planet 51 has to offer!
About the movie (available starting today in stores): When Chuck the astronaut (Dwayne Johnson) lands on a distant planet filled with little green people, he's surprised to discover that we're not alone in the galaxy. But he gets the shock of his life when the residents of Planet 51 mistakenly believe that his presence is the start of an alien invasion of the human kind! Luckily, Lem (Justin Long) quickly realizes that Chuck is friendly and makes it his personal mission to help him return safely to his ship.
How to enter: Easy, as always: you just have to write a comment! (Click on the orange "comment" button at the bottom of this post.) We like to mix it up a little with the comments — since it's so much fun to see what other moms write — and today we're going with "guilty pleasures".
Since playing video games kinda falls into this category once you become a grown-up, we want to know about those things you enjoy but might not typically admit. It could be reading romance novels while eating a king-sized chocolate bar in the bathtub, watching Gossip Girl on the WB or … well, you tell us! Click the orange comment button and post your answer. Or send it to us by email at giveaways@nwaMotherlode.com.
We can't wait to read your guilty comments. Thanks again to Sony for sharing the Planet 51 love with NWA!