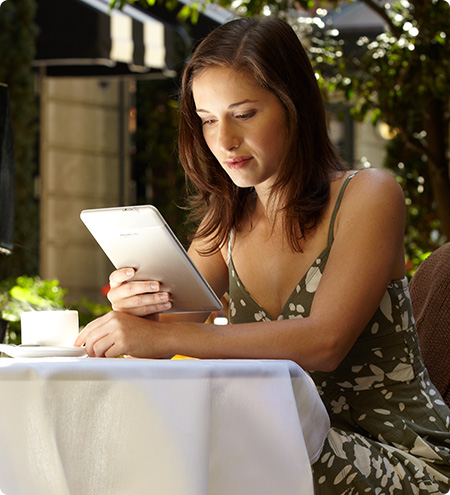 Our friend and loyal Motherlode reader (one came after the other; cool, huh?) Kristy Brown is as addicted to her new Kindle as she is to her iphone. [That's not Kristy in the above pic, btw, it's from the Amazon Kindle website HERE.]
"It's one of those devices that, like the iphone, makes a busy mama's life easier," said Kristy, who owns a speech-language-therapy practice in Fayetteville and is mom to almost 2-year-old John Lleyton.
The Kindle is a portable reading device with the ability to wirelessly download books, blogs, magazines and newspapers. You don't need a "hotspot" to read it. You can download and read the beginning of books for free — just in case you don't like them. Weighing only a little over 10 ounces, it's much lighter than carrying around a stack of books (or even a paperback)! Another bonus: the screen looks and reads like paper.
I am green with envy about Kristy's new purchase, since I've wanted a Kindle since chatting with a mom who was reading hers while sunbathing at a local aquatic center last summer. It was a 40th birthday present to herself. Smart chick.
Kristy said the only complaint she has is that it needs a book light clip or some way to light up the screen when she's reading it.
Click HERE to see a video Kristy found about the Kindle that really gives a lot of info.