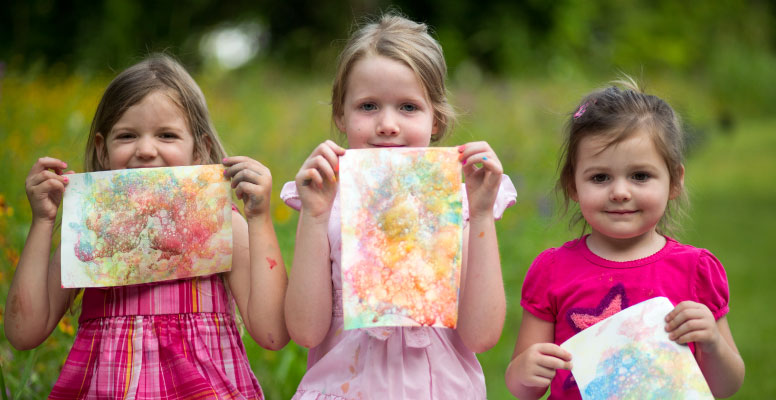 Crystal Bridges has some awesome summer camps coming up.
These indoor/outdoor programs include time in the galleries, outside on the trails, and in the studios for a fun-filled week of art for kids ages 6 to 12.
Sessions include: Drawing, Painting, Mixed-Media Mania, Art and Animals, Art and Nature, Video Selfies, The Dancing Museum, and All About Andy, centered around Warhol's Nature, an exhibition opening at the museum in July.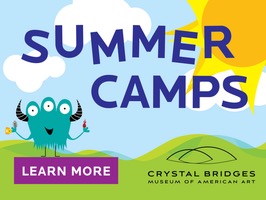 All materials, plus healthy snacks, are included. CLICK HERE for more info.
In addition to info about summer camps, we also asked some questions about visiting Crystal Bridges with kids.
Here's the Q&A:
Q: Some museums are "stuffy" and kids don't seem welcome. Are kids allowed in every part of Crystal Bridges?
Kids are always welcome in all of Crystal Bridges' galleries!
Kids often respond to works of art quite differently from adults, because they don't have that sense of needing to "know something" about the works in order to appreciate them. In fact, if you feel a little puzzled about, say, the Abstract Expressionist works in Van Gogh to Rothko, bring a kid along to help you see the works with fresh eyes!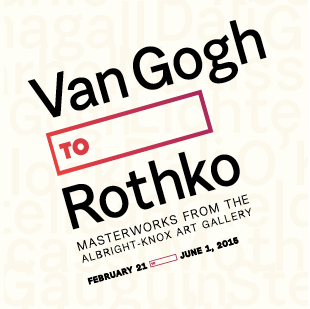 Q: Can you tell me about the areas of the museum that cater to kids?
We have two great art-making areas in the Museum right now that kids of all ages will enjoy:
The Artist's Studio, associated with the exhibition Van Gogh to Rothko: Masterworks from the Albright-Knox Art Gallery.
Experience Art Studio, our year-round space for art making and creative play.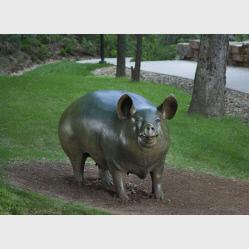 And of course the Museum grounds are a wonderful resource for families—especially the Art Trail, where kids can encounter playful sculptures such as Stella the pig!
Q: For those who have never been to the museum, but they want to visit with their kids, what would you say they MUST do?
First: take it easy.
Don't feel like you have to cram everything into one visit. And be willing to experience the artworks at a kid's pace.
My own son, when he was about 5 to 7, viewed art galleries by moving through them three or four times at top speed. At first I thought I should slow him down, but in fact, his rocket pace kept him from whining about me moving too slowly, and me from being irritated by the whining, and we still got a good experience of the art, noticing something different on every pass.
Other than that, I'd say don't miss some of the outside attractions, in addition to the galleries: the walk up to Crystal Spring from the South Lawn is short, and leads you to an enchanting little area that kids will enjoy where the spring comes up from under a rocky ledge.
Robert Indiana's LOVE sculpture and others are out on the South Lawn, as well.
Q: What about if they're visiting without children?
The Crystal Bridges Library is located on the third floor and is a great place for quiet reflection, to take in the views of the upper pond, and to browse through a huge selection of books about American art and artists.  Once you've discovered an artist you like in the galleries, come upstairs to the Library and look up some more information on that artist!  (By the way, the Library has a children's section, too, so it's not just for grown-ups!)
Q: What about things to do just outside the museum doors? 
This is the time of year to GET OUTSIDE at Crystal Bridges!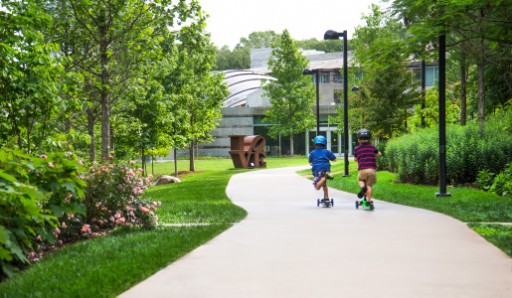 Things are starting to bloom everywhere and in some places it's just breathtaking, so get out there!
We have more than three miles of trails here on the grounds, and each trail has its own attractions. Pick up an Outside brochure in the lobby and choose your path, or join the Spring Showcase Trail Experience, a guided tour of the grounds that provides information about the spring blooms.
Crystal Bridges' new Outdoor App will be available in early May and will feature maps, a plant guide, information about artworks, and more. Watch for its debut on Mother's Day weekend.
Look for the green "Eco-Boxes" on the grounds, too: they are hand-powered audio devices that play recorded information about the history, artworks, or plants in a specific area.
If you come in the evening, stroll up the Orchard Trail or the Tulip Tree Trail toward the Museum's Additional Parking area and stretch out on one of the comfortable benches to enjoy the mesmerizing colors of Leo Villareal's illuminated artwork, Buckyball.
Q: Since the museum is free, do visitors have to check in or can they just walk in and start looking around?
We ask everyone to check in. It helps us keep track of how many guests are visiting Crystal Bridges and where they are coming from.
Our Guest Services associates will ask you for your zip code and one or two other questions for our records. They can also give you lots of information about the Museum and events or programs that may be happening the day of your visit.
Of course, if you want to purchase tickets to a temporary exhibition, you would do that at Guest Services, as well.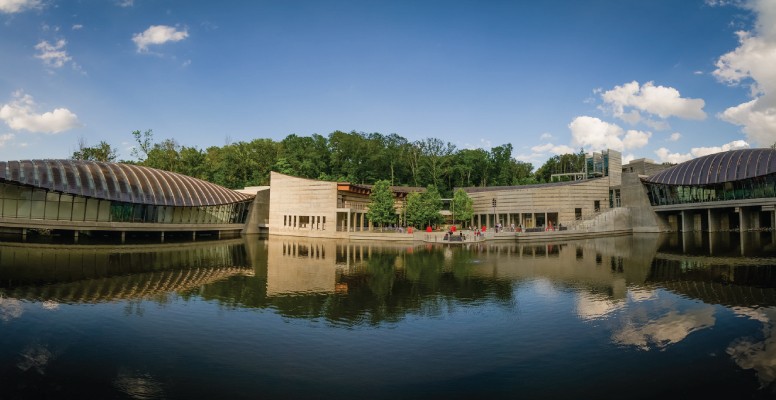 Q: Does the museum restaurant, Eleven, have food options that would appeal to kids?
Yes, there are children's options on both the lunch and dinner menus. Eleven's grilled-cheese sandwich is one of the snazziest anywhere!
Q: What about special evenings out for couples at Eleven?
Dinner at Eleven on a Wednesday or Friday night can be a relaxing, romantic event, and on Fridays, you can enjoy live music in the restaurant from 5 to 7 p.m.
Our Gallery Guides offer a short "Nightcap Tour" at 7:30 on Wednesday and Friday: it's a half-hour tour that focuses on three or four of the favorite artworks in Crystal Bridges' permanent collection.
Q: What's new at the museum right now?
We are very pleased to have recently reopened our 1940s to Now Gallery, which was closed for re-installation.  There are many artworks in this new arrangement that are either new acquisitions, or have never been on view at the Museum before.
Q: Are there any future plans we can look forward to?
There's always something new coming!
Mother's Day weekend will be especially fun this year, because it coincides with our first-ever Crystal Bridges Garden Party in celebration of National Public Gardens Day on Saturday, May 8.  We'll have art making, information, live music, activities, and a native plant sale at various locations all around the grounds.
Plus, award-winning garden writer Amy Stewart will give an illustrated presentation on her popular book Wicked Plants, so don't miss it!  The Museum Store is also hosting a jewelry trunk show and sale that weekend, just in time to pick out something pretty for Mom.
Looking further ahead, of course, we eagerly anticipate the completion of the reconstruction of Frank Lloyd Wright's Bachman Wilson House on the Museum grounds later this year! Keep your eyes on the Museum's website for information about the date.
For a full list of events coming up at Crystal Bridges, click here. CLICK HERE to register for summer camps online or call guest services at 479.657.2335.