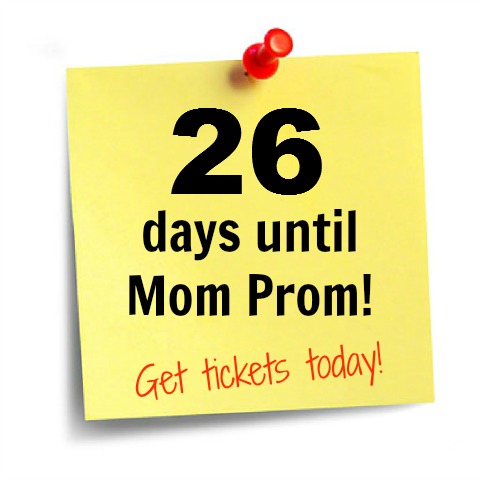 So here's the thing, mamas. The Mom Prom is LESS than one month away, which means it's time to get your ticket if you haven't already done that.
There are only 300 tickets available and many of those have already sold. So please don't wait too long to get yours because we would hate for you to miss a chance to come to the Mom Prom if you're in need of a fun girls' night out. Click HERE to reserve your Mom Prom tickets online.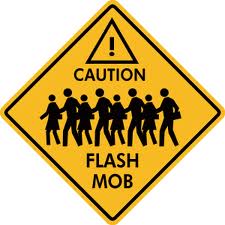 And if you're up to the challenge, we'd also love it if you'd join us for a little "Mom Prom Flash Mob." We asked a local mom who is also a Zumba instructor to put together a special "mama dance" for us. It's short and simple and will be danced to a mash-up of some AWESOME dance songs, both old and new. (It includes everything from Vanilla Ice to Katy Perry!)
NOTE: This flash mob dance does NOT require any fancy dance skills. In fact, we made sure to request that these moves be the kind that anybody can do. You actually already know most of the moves because they include things like "Push the stroller," "Dust the furniture," and "Drive the minivan." So easy but so fun!
If you'd like to learn the flash mob dance, there are two ways to do it:
1. Join us for a short flash mob demo at the Rogers Mercy YMCA on Thursday, April 11, 2013 at 6:30 p.m. to learn the moves. We'll perform it at some point during Prom night! (Meet us in the lobby and we can go in together!)

2. Watch the YouTube video of the Mom Prom flash mob dance which will be posted on Friday, April 12, 2013. We'll also post it here on nwaMotherlode.com and on the Mom Prom website at www.nwaMomProm.com.
For more info about the Mom Prom, click HERE to see the announcement article.
And click HERE to read about the awesome raffle packages that will be given away that night.
And click HERE to read about the Mom Prom Funniest Old Prom Photo Contest (with prizes from Underwood's Fine Jewelers!)
And click HERE to read about the "Celebrity Prom Dates" that will be at this year's Mom Prom, including names like Ryan Gosling, Channing Tatum and several more. 🙂
And click HERE to "like" our Mom Prom Facebook page!