There are only 3 weeks to go until the NWA Mom Prom on April 26, 2014! Do you have your ticket yet? Get it here.
We would LOVE it if you'd learn this year's Flash Mob Dance and do it with your fellow mamas on the dance floor that night. Just hit the play arrow on the video above and start learning!
Lots of ladies learned last year's dance (which we promise is simple and easy), and we had a blast busting a few moves together that night. Want proof? Check out this awesome shot of the dance floor last year about mid-way through the flash mob dance.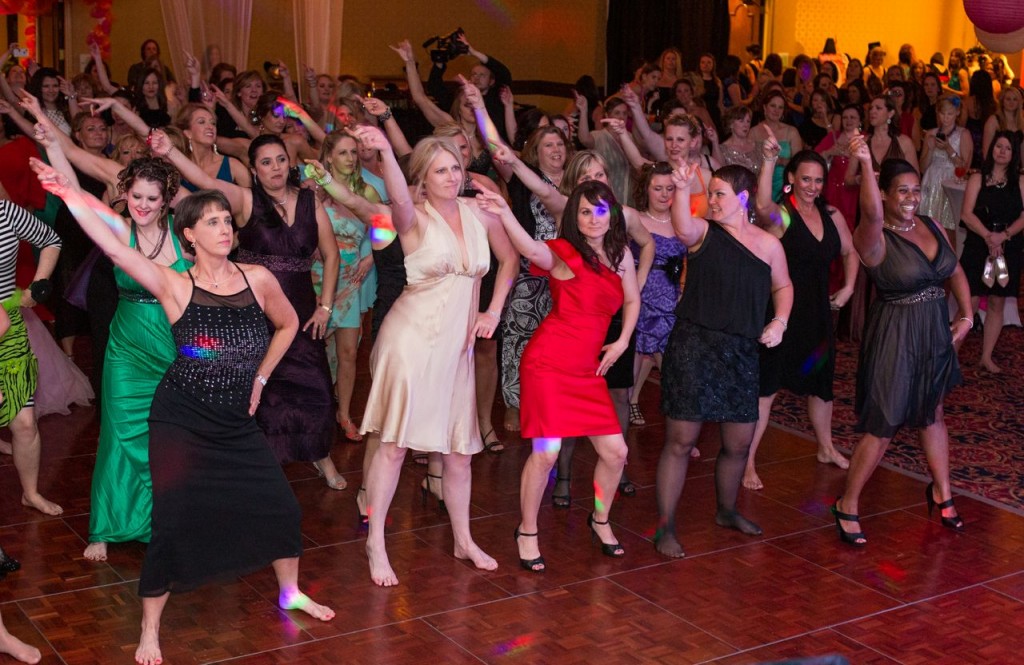 Don't worry about trying to dance in heels. That's why we have a Shoe Bank on site (sponsored by First Bank) where you can store your pretty heels and hit the dance floor barefoot, if you like.
Local Zumba instructor and fellow mama Kelsey Lee (who teaches at the Mercy YMCA in Rogers) will be at the Mom Prom again this year, and we'll get her up on stage so you can follow along with the moves, so don't stress out about memorizing the whole thing. The whole point is to just have fun, and we promise it will be.  (Thank you, Kelsey, for creating another fun dance set to some awesome songs again this year!)
Here's a list of the dance moves that correspond to the video at the top. Happy dancing!
 (song) "Everybody Dance Now"
1. Starts slowly, right foot stomp, left foot stomp, right foot stomp, left foot stomp then…
2. Running Man for 16 counts (starting right foot)
3. When it says, "Give me the music", walk right with hands up, gimmie motion,  walk 8 counts
4. "Give me the music" walk left hands up, "gimmie" motion
5. "Everybody Dance Now"  face forward, right arm up, left arm up, right arm right hip, left arm left hip
6. Brush your shoulders off (right , left, right, right) (left, right, left, left) (right, left, right, right)
7. "Everybody Dance Now"  face forward, right arm up, left arm up, right arm right hip, left arm left hip
(song) "No Diggity"
1.  Drive the Minivan  (right arm steers,  16 counts, last two counts Honk the Horn)
2. Right foot forward hop,  Left foot forward hop, repeat for four sets of 8 counts
3. Step right leg, face left  Dust the furniture  8 counts, face forward, Dust the Furniture 8 counts,  step left leg, face right Dust the Furniture 8 counts, face forward, Dust the Furniture 8 counts
(song) "Stayin' Alive"
1. Hands on hips, rock side to side 16 counts
2. Strut forward and back for 16 counts
3.  Arms and Legs go in and out for 16 counts
4.  Spending the Money to the right for 8 counts, Spending the Money to the left for 8 counts
5.  Rolling Hands to the front (4 counts), Getting the Groceries (right hand, two times); Rolling Hands front (4 counts), Getting the Groceries (left hand, two times)
6. Both arms up, high, middle, low then right arm up and turn in a circle; Repeat arms up, high, middle, low then left arm up and turn in a circle. March in place
(song) "Happy"
1. Clap right, left (high) right, left (low) 16 counts
2. Left elbow out, walk right (4 counts) then shimmy shoulders for 4 counts
3. Right elbow out, walk left (4 counts) then shimmy shoulders for 4 counts
4.  Pony right arm up, then left repeat for 8 counts
5. Swim right arm forward, then left repeat for 8 counts
6. Backstroke right arm back, then left repeat for 8 counts
7. Pony right arm up, then left repeat for 8 counts
REPEAT the Routine for Happy (starting with claps, high low)