Note from the mamas: Congratulations to Annette Goll, winner of the Great Date Giveaway!
If you enjoy a little man eye candy as well as good music and fabulous food, we've got the PERFECT date night lined up for you. Picture this: Four really good-looking guys in tuxedos singing classic songs made famous by some of the most successful bands of all time — The Beatles, The Beach Boys, The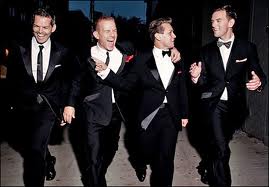 Jackson Five, The Four Seasons, The Mamas and the Papas, and lots more.
We've got FOUR tickets to see them live at Walton Arts Center on Friday, August 19th at 8 p.m., plus we're including a $75 gift card to enjoy dinner at Bordinos Italian Restaurant!! (This would be an incredible double-date or a super fancy girls' night out!)
ABOUT THE SHOW: The stars of this show are the same four men who starred in the original cast of the Broadway hit Jersey Boys. The men have appeared on the Today Show, The Late Show with David Letterman, Dick Clark's Rockin' New Year's Eve, and many more. They've also performed in Carnegie Hall, Yankee Stadium, Times Square and Radio City Music Hall. Impressed yet? We are.
ABOUT THE FOOD: As you know, our policy here at nwaMotherlode is to treat our fellow mamas to a great meal at an awesome restaurant every chance we get. So we're pairing these concert tickets with a wonderful meal at the one-of-a-kind Bordinos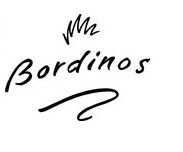 Italian Restaurant on Dickson Street, just steps away from the theater. Instead of telling you how much we LOVE eating at Bordinos, we'll just let the menu do the talking this time. It speaks for itself.
Here are a few of the dishes you might choose during your date at Bordinos: Chicken Fettuccine with roasted bell peppers, spinach, Shiitake mushrooms in a white wine cream sauce. Or maybe you'd like Beef Tenderloin with zucchini in gorgonzola butter? And you'd be nuts to skip dessert. We like the famous Chocolate Mousse Dome, which is a chocolate cake, chocolate mouse, cocoa nibs and a raspberry couli. We could go on and on… but we've already made ourselves hungry just thinking about it. Click here to see the rest of the menu.
HOW TO ENTER: To throw your name in the hat for this random drawing, just click the orange comment button below and tell us what lights your "date night" fire. Great eyes? Sexy smile? A man in uniform? A killer sense of humor? A gentleman who knows how to treat a lady? A man who looks good in his Levi's? A cowboy? A brainiac? An outdoorsman? An incredible dad? An athlete? A savvy business man? A man in a tux?
You can also send us your answer via email to giveaways@nwaMotherlode.com.
HOW TO INCREASE YOUR ODDS: As always, we reward those mamas who help us spread the good word about giveaways here on nwaMotherlode.com. Just email your friends about this opportunity and we'll give you an extra chance to win for every friend you tell. Be sure to put giveaways@nwaMotherlode.com on the CC line of your email so we can give you proper credit. Easy as that!
If you don't want to miss a chance to see this show, call the Walton Arts Center Box Office and snag your tickets while you can. Call 479-443-5600 or click HERE to check on ticket availability and order online.
Good luck in the giveaway! (Remember that all our drawings are completely random, so anybody can win. And we NEVER sell email addresses or lists so no worries!) Have a great week!