By Andi Douglas, nwaMotherlode.com beauty editor
While standing in line at Rhea Lana I struck up a conversation with a young mother of one, who was genuinely (or at least convincingly) shocked that I had 3 children. This was hard for me to believe, since I was at the end of a particularly rough week and felt like I had been beat down like a Mommy-shaped piñata.
After catching a glimpse of myself in a reflective window, it occurred to me that some of the usual signs of being an exhausted mom are, mercifully, in style right now.
The leggings I wore to hide my unshaven legs are available in every color and help me get more wear out of my little dresses that are really too short for my age bracket, but I am reluctant to give up. I'm so happy that it is finally cool enough to wear boots, so I don't have worry about a hairy ankle poking out the bottom of my jeans or my chipped pedicure showing.
My overgrown highlights are now considered "Ombre", a very high fashion color technique that blends your hair from darker at the roots to blond at the tips. Very popular with trendsetters, the natural look is achieved with an all over color and strategically placed highlights. Or, you can put off getting your hair done for 5 months and wear it with lots of texture. Voila, I'm in style!
If you have even glanced at a magazine this season (or cruised Pinterest) you have seen a how-to on the "Messy Bun" which makes me laugh because some of them are so intricate I would need a pro to do it.
I have been doing this for a couple of years and, until recently, was always embarrassed by my unkempt look. I have two techniques I use to achieve this look. When I want a low bun, I pull my hair into a ponytail, wrap it twice with a hair elastic and on the third time I only pull it halfway through, leaving the ends loose.
When even the ends of my hair can't be saved, I pile my hair on top of my head in a high pony, twist and wrap it around the base until it makes a bun and then put my hair elastic over the top, twice. Fluff and go…which is perfect since you will probably be doing laundry! The beauty behind the messy bun is that fly-aways and loose bits enhance the look.
Since I lost my only lipstick (that I actually wear) somewhere between the pumpkin patch and the carpool line, I came by the "nude lip" look by default. And my dark eye makeup is camouflage for another sleepless night. The natural, peach flush to my cheeks is because I sprinted from my house like a parolee as soon as I got the chance to ditch my kids.
I love them sooo much, of course, but as they say, distance makes the heart grow fonder.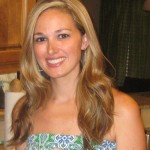 Have a question for Andi, beauty blogger and fellow mama of three? Andi welcomes your questions and feedback to Beauty Buzz. E-mail her at mamas@nwaMotherlode.com.