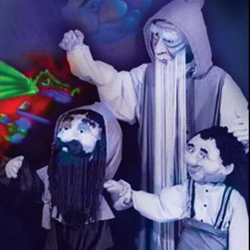 Mamas, I won't assume your boys will be the only ones to appreciate this giveaway (I've got a girl who loves this kind of fantasy story), so I'll say this is the perfect show for your 10-and-up kiddos. Today we're giving away four tickets so the whole family can go see The Hobbit on Saturday, Feb. 27, at 7 p.m.!
Or heck, your husband could take himself and three of your son's best friends with these tickets!
Enter to win: Just hit the big orange "comment" button at the bottom of this post and tell us why you'd love to win these tickets. Your husband or son is a huge Tolkien fan? You loved The Hobbit when you were a kid?
Don't forget that you can increase your chances of winning by e-mailing friends to tell them about the giveaway. Just CC us (giveaways@nwaMotherlode.com) so we'll know how many times to put your name on the spreadsheet. The number of chances equals the number of people you e-mail. Most people leave a comment, then send an e-mail as well.
About the show: For ages 10 & up, this unprecedented stage adaptation of the prequel to the classic literary trilogy "The Lord of the Rings" is something every true Tolkien fan should experience. Utilizing an ancient art of Japanese theater called Bunraku – which combines live-action performers with intricately designed life-size puppets – the award-winning Canadian company Théâtre Sans Fil brings to life Tolkien's fantastical world of orcs, trolls, wizards and, yes, Hobbits.
Bonus: Tickets for this show are as low as $9.50, when you use a special code. To take advantage of this offer, visit waltonartscenter.org and log in using promo code BILBO. After signing in, browse to the event from the homepage or the "Tickets and Events" page. Your discount will apply automatically. You can also stop by the Walton Arts Center Box Office or call 479.443.5600.
Also, Théâtre Sans Fil is making this presentation of The Hobbit an even more memorable affair by inviting audience members to come on stage after the performance. Theatergoers are allowed to see firsthand the inner workings of this complex production, making for a wholly exclusive interactive theater experience.
Show times are 2 p.m. and 7 p.m. on Saturday, Feb. 27! Good luck in the drawing!