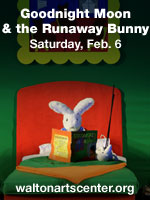 For nearly two years now, the Walton Arts Center has generously offered tickets to our readers for many of the great shows they've attracted to Northwest Arkansas.
Today we're giving away two sets! The first is for a double-bill adaptation of the beloved bedtime classics Goodnight Moon and Runaway Bunny. With FOUR FREE TICKETS to the Feb. 6 show this would make the perfect family outing. The second set of tickets is just right for a date night (or girls' night). We've got two tickets to give away for the Tony award-winning show The Drowsy Chaperone on Tuesday, Feb. 2.

And you know the Motherlode mamas never let you go out on an empty stomach! The winner of the Goodnight Moon/Runaway Bunny tickets will also receive a gift certificate to Flying Burrito, right across the street from Walton Arts Center. Yum.
The Drowsy Chaperone winner will be treated to dinner at Bordinos — always a date night favorite!


HOW TO ENTER: If you want to win tickets to the show based on popular board books Goodnight Moon and the Runaway Bunny, just tell us about your child's favorite bedtime ritual (I bet many of us could say reading one of these books is definitely a favorite!).
If you want a shot at winning The Drowsy Chaperone tickets, we want to hear about a wedding. The Drowsy Chaperone tells the hilarious tale of a celebrity bride on her uproarious wedding day. Do you have a good wedding day story to tell? We'd love to hear it (yours or someone else's!). Just click on the word "comment" at the bottom of this post and tell us about those bedtime rituals and wedding days!
You can also e-mail your entry to us at giveaways@nwaMotherlode.com.
As always, you can increase your odds of winning by helping us spread the word about the giveaway. Send an e-mail to your friends/family about it and be sure to put us in the CC line of your note so we can give you proper credit. We'll enter your name in the drawing again for every friend you tell. (10 friends means 10 extra chances to win.)
Please let us know in comments (or e-mail) whether you'd like to be in the running for both sets of tickets or if you'd rather just have one or the other.
About Goodnight Moon/Runaway Bunny: What to say about these two fabulous board books? Of course, both books feature sweet baby bunnies. And I think most adults love to hear the rhythm of Goodnight Moon, a short poem of goodnight wishes, as much as the kids. The pictures are just beautiful.
The Runaway Bunny's pretend tale of leaving home gives his mother a chance to offer reassuring responses. The pictures in this one are also lovely.
About The Drowsy Chaperone: Appropriate for the whole family, this show is a 1920s musical throwback comedy that won more Tony Awards in 2006 than any other musical on Broadway. It will be on stage at WAC for only three nights (Feb. 2-4) at 7 p.m.
This light-hearted musical is a cleverly constructed homage to the bygone of the Jazz Age. This single-act show begins in a dreary apartment with a cheerless gentleman sitting routinely in a chair. The man, aptly called "Man in Chair," decides to cope with life's hardships by listening to his favorite show tunes album; a 1928 smash hit called "The Drowsy Chaperone." As soon as the first song begins to play, the ordinary quickly turns extraordinary. What follows is a whimsical show-within-a-show that focuses on a newly-engaged narcissistic showgirl and her dashing husband-to-be, an avaricious producer, a know-it-all British butler, a pair of cookie-cutter 1920s gangsters, an over-the-top Casanova and a dotty heroine.
"Surely few productions have ever pulled an audience so immediately and unconditionally on their sides," said the New York Times.
ABOUT THE FOOD: We love Flying Burrito and Bordinos, who are also generous supporters of Motherlode and the mamas out there.
The Flying Burrito Company is a burrito bar that specializes in large, California-style burritos made to order. You choose the toppings and they have all kinds of tortilla flavors (I like the jalapeno cheddar wrap best. Delish.) Kids eat FREE all day and all night (well, 'til they close!) Mondays through Wednesdays and they also have a program for moms on a budget. It's a frequent diner program, so for every $100 you spend, you get $10 of in-store credit.
You can also buy a FBC plastic cup for $2.99 and bring it back each time for 69-cent refills!

Flying Burrito began in Fayetteville at the location near the Walton Arts Center, just a block off Dickson Street. It became so popular that they opened new locations in new cities, including locations on North College Avenue in Fayetteville, one in Springdale, one in Little Rock and its most recent addition in Bentonville. They also have a new location at the Northwest Arkansas Mall food court!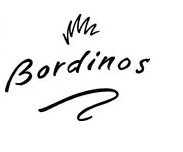 Bordinos. Well, we love this place for its food, atmosphere and overall rating as a great date place — or a fun girls' night out stop. We also love the beautiful art boxes designed by Kathy Thompson. It always feels like a special occasion when we eat at Bordinos. That's why we like to send NWA mamas there!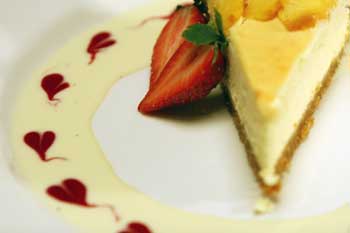 Good luck!