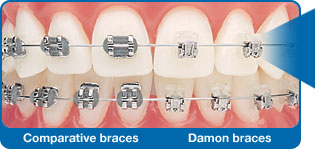 Braces have come a long way, baby. The technology and advancements in techniques make getting straight teeth a whole lot easier and faster than it used to be. If you or your kids have braces in your future, here's some info on one of the newest ways to do it. It's called the Damon System, and you might want to ask your orthodontist about this system and what makes it different.
We learned about it from one of our sponsors, orthodontist Dr. Jesse Gray, whose patients are seeing great results with it. You can see some of his amazing before and after patient photos on his website by clicking here.
From what we've read about it, the Damon System gives you smaller, less bulky braces that are easier to clean. Treatment time is supposed to be shorter than conventional braces with fewer dental appointments needed. Here are three of the main differences listed on the company's website:
1. Damon braces eliminate the need for elastic or metal "ties."
2. Lightweight "shape-memory" wires move teeth faster with fewer adjustments needed.
3. Damon braces align teeth , usually without the need for extractions or rapid palatal expanders.
Talk to your orthodontist to get more info or do some research online by visiting the company's website. (Click HERE to see it.)
Dr. Jesse Gray of Northwest Orthodontics can also answer your questions. Call 479-521-4181 to schedule an appointment with him.