Note from the mamas: Comments are closed — we have a winner!
You won't need a good excuse for going out with your sweetie if you win this Great Date Giveaway because you'll most definitely have one. We've got two tickets to see the romantic production of South Pacific on opening night at the Walton Arts Center one week from today on Tuesday, March 30th at 7 p.m.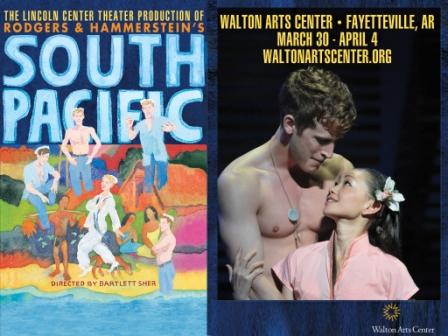 And it wouldn't be a great date if it didn't also include great food. So we've turned to our friends at nearby Bordinos Italian Restaurant to help us out with that part. The Great Date Giveaway will also include a $50 gift card at Bordinos to use either on the night of the show or some other special night.
A lot of men I know will be almost as excited about the "free" part of this date as they are about the idea of having some kid-free time alone with the woman they love. The tickets for South Pacific start out at $35.50 each. So two tickets plus the Bordinos gift card is a date valued at more than $120! He'll be in love with the fact that you've won a special "couples-only" night that doesn't mess up the budget.
ABOUT THE SHOW: Set on a tropical island during World War II, this musical tells the story of two couples whose love story is threatened by the realities of war as well as their own prejudices. Some of the show's most recognized songs include "Some Enchanted Evening," "I'm Gonna Wash That Man Right Outta My Hair," and "There Is Nothin' Like a Dame."
This show earned seven honors during the 2008 Tony Awards. The New York Post called it "simply wonderful." And USA Today's review said "South Pacific doesn't just float. It soars!"
ABOUT THE FOOD: We love the chance to send couples to Bordinos Italian Restaurant because, after the date, they always tell us how incredible it was — the food, the atmosphere, the service — everything.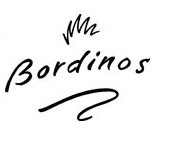 We love hearing that, and we know that busy parents really need and deserve an "enchanted evening" like this to focus on themselves for a change.
We don't know of a single thing on the Bordinos menu that isn't wonderful. But just be sure not to eat so much that you miss out on dessert. We keep hearing about the creations of Bordinos' new pastry chef Robyn Bowen. Apparently she has introduced a new dessert called the Raspberry Chocolate Mousse Dome that's taking Dickson Street by storm. Can't wait to try it!
HOW TO ENTER: South Pacific is known for its incredible music. One of the songs from the show is called "Honey Bun." So we want to know why your "honey" deserves this special date night. Does he make you laugh when you need it most? Does he hold your purse while you're in the dressing room? Does he whisk the kids away for some play time when you desperately need a break? We want to hear about it. Click the big orange comment button below and post your thoughts. Don't worry about writing a masterpiece. The drawing is completely RANDOM.
You can also enter the RANDOM drawing via e-mail by sending a note to giveaways@nwaMotherlode.com. As always, feel free to increase your odds of winning by sending a note about this great date giveaway to your friends. Be sure to put giveaways@nwaMotherlode.com on the CC line of your note so we can give you proper credit. We'll put your name in the hat for every friend you tell.
Good luck winning this Great Date Giveaway! Watch your inbox for an e-mail notifying you about a possible win. We'll contact a winner on Friday!