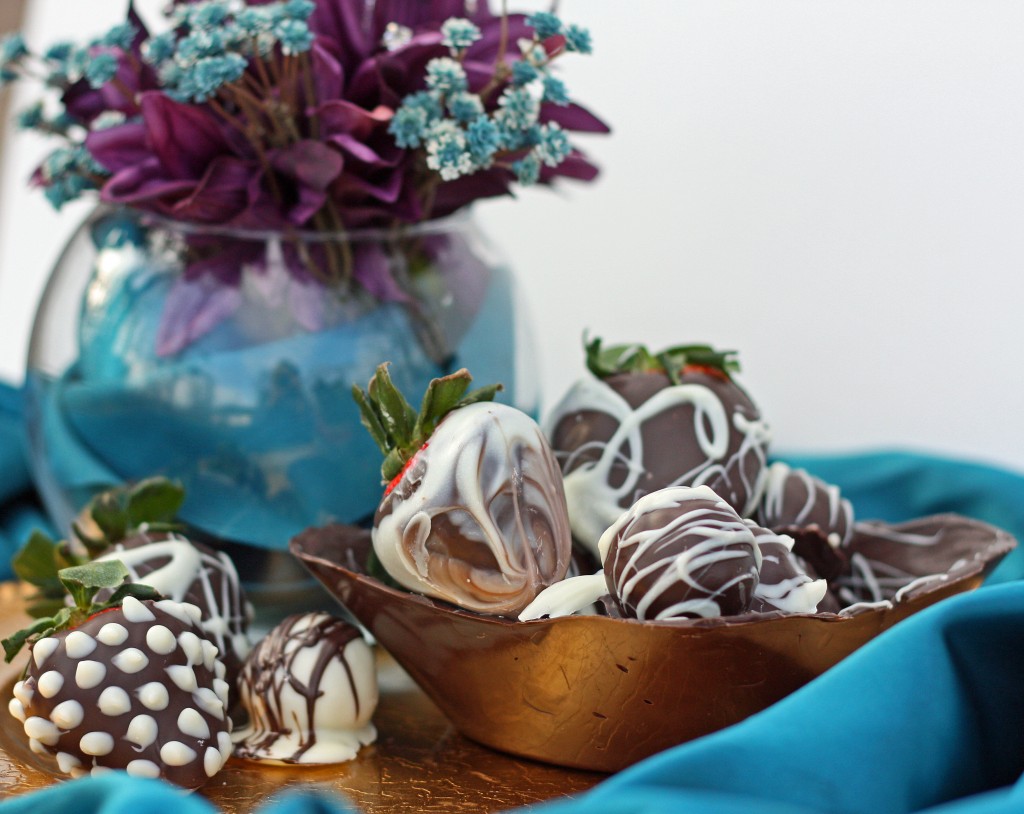 Note from the mamas: Kara Ault was the lucky winner of this delicious giveaway. Congrats, Kara!
Oh, yes, yes, yes! This giveaway will make all the chocolate lovers swoon. But first, I've got to tell you the back story on these amazing custom-made chocolates I discovered late last year.
I got invited to a jewelry party at my friend Heidi's house. When I got there, I migrated over to the big spread of appetizers she had on the table. But then I spotted these chocolates out of the corner of my eye, and I felt this magnetic pull toward them. They were beautiful. The chocolate dipped strawberries were enormous. And then there were these little cake balls dipped in milk chocolate and dribbled with white chocolate. And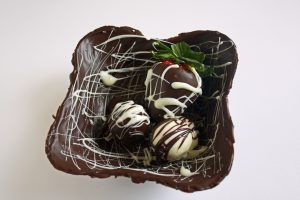 the dipped strawberries and cake balls were nestled into what looked like a chocolate bowl.
"Is this bowl really made out of chocolate?" I asked..
Yep. It is!" said one of other ladies, as she broke a piece of bowl off and popped it in her mouth with a smile.
Genius, I thought. When the strawberries and cake balls disappear, there's still a big chocolate bowl to eat!
I asked where the delicious chocolates came from, and Heidi pointed toward a young woman with a cute baby boy on her lap. She started her own custom chocolates business shortly after her son was born. It's called Dojo's Designs, and the chocolate artist behind those tasty creations is Sierra Dominguez (who just found out she's expecting her second baby!). If you're looking for the perfect addition to a baby shower, bridal shower, bachelorette party, wedding, book club meeting, birthday bash or a Valentine's dinner, these chocolates are IT. They taste even better than they look. I think I'm officially addicted now.
HOW TO ENTER: As you know, Valentine's Day is coming up quickly, and we thought a chocolate bowl full of dipped strawberries, cake balls or both would make a very sweet treat for one lucky mama. To throw your name in the hat to win the chocolate package, click the orange comment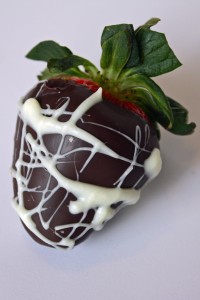 button below and tell us what your favorite chocolate treat is. Do you have any sweet memories that are tied to chocolate? (Chocolate fountain at your wedding reception? Box of chocolates from your first boyfriend on Valentine's Day? Your grandmother's famous chocolate cake?)
You can also e-mail your entry to giveaways@nwaMotherlode.com. To increase your odds of snagging the free chocolates, simply tell your friends via email about this giveaway and be sure to put giveaways@nwaMotherlode.com on the CC line. We'll give you an extra chance to win for every person you tell. Sweet!
If you're shopping for a good Valentine's Day gift this year, this would be a delicious surprise. At only $20 per chocolate edible bowl (which is filled with 5 to 6 dipped strawberries and 5 to 6 dipped cake balls), it's a gift that won't blow your budget but still feels very luxurious and high-end. We think it's perfect for husbands with a sweet tooth, kids, and chocolate-loving friends, too.
But place your order asap if you want it for Valentine's Day. (It's only a couple of weeks away, can you believe it?) To order one of these artfully crafted edible boxes filled with your choice of either dipped strawberries, cake balls, (or both), call Sierra at Dojo's Designs at (479) 715-2302 or email her at dojosdesigns@yahoo.com.
ABOUT DOJO'S DESIGNS: Married to husband Mark, Sierra Dominguez is mother to a 6-month-old baby boy named Khai and is expecting another baby later this year. She and her family moved to Northwest Arkansas last summer and moved into their new home just three days after their son was born. Sierra says that loving chocolate runs in her family. Her grandmother taught her to make brownies when she was only 8 and she is still making them for family gatherings.
Sierra came up with the idea for her famous chocolate boxes after watching an episode of TLC's Cake Boss.  Here's her story, in her own words:
"After I saw that episode, I really wanted to learn how to make a chocolate box. Then I had to figure out what to put in it, and who doesn't love chocolate-dipped strawberries? I also include my chocolate-dipped cake balls because they are so moist that it's almost like eating cake batter. If you ask me, that's what cake should taste like!"
"I'm a stay-at-home mom, and my newborn son was and still is amazing and actually sleeps 10 hours at night. (Lucky mom, I know.) So I had the freedom and energy to "try, try again." I started making these chocolates for family, friends and even made one for a baby shower. The feedback was great, and I became intrigued because I couldn't find these kinds of boxes anywhere else in the area. They're so unique and cute… I couldn't resist. Some stay-at-home moms make hair bows. I make chocolates! And I'm blessed to have this opportunity to start a business and am relying on God to steer it where He wants it to go."
Good luck in the chocolate giveaway, ladies! We'll choose a winner next Thursday!