Congratulations to Christy Bennett of Goshen who won this week's giveaway — a 6×9 foot Disney-themed area rug (priced at $359.99) from Flooring America by Carpetsmart! Christy is going to have a lot of fun shopping because there are tons of different patterns, colors and textures to choose from, including Toy Story, Winnie the Pooh, Cars, Disney Fairies, Disney Princess and even Hannah Montana.
Christy has a 6-month-old son named Ryan. You can check out his super cute baby pictures on Christy's blog (www.lifewiththebennetts.blogspot.com). Baby Ryan has a black sleigh-style crib and changing table in his room which is decorated in baby blue and chocolate brown. Christy promised to send us a photo of Ryan playing on his new rug in a few weeks.
Christy is a work-from-home mom who manages to squeeze in some work for a real estate development company during the baby's nap times. Her husband, Micah, is an electrician. Congrats to the Bennetts on the big win, and we want to say a big "thank you" to our sponsor Flooring America for the generous giveaway.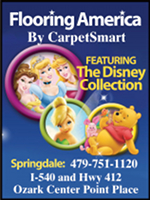 If you didn't win the rug but would love to have one, go by Flooring America (Springdale Highway 412 location) and check out the Disney display. (You can also see rug options by clicking here and following the links in last Monday's post.) There are some really cute rug designs to choose from. And be sure to check back with us often because we're always dreaming up new giveaways for our fellow mamas.