We don't like to shout but we think this next statement is worthy of all caps, so here goes: WE'RE GIVING AWAY A NEW FRENCH DOOR REFRIGERATOR COURTESY OF METRO APPLIANCES & MORE — JUST IN TIME FOR THE HOLIDAYS! WOO-HOOOOO!
It's our Big Chill Giveaway, and the local mom who wins this one is going to get a beautiful stainless steel refrigerator delivered to her kitchen by our friends at Metro Appliances & More. (If you recognize the name, it might be because they're the company that has hooked up FOUR of our readers with free appliances!! Here's a list of other local moms and what they won:
Tracy Easterling of Huntsville won a washer and dryer set on pedestal stands. (spring 2009)
Elizabeth Dietz of Springdale won a new refrigerator. (winter 2009)
Dawn Stanford of Fayetteville won a washer and dryer set on pedestal stands. (spring 2010)
Cathy Head of Springdale won a washer and dryer set on pedestal stands. (spring 2011)
The Big Chill Giveaway fridge is GORGEOUS. It's a Samsung 26 cubic foot French Door Stainless Steel model with water and ice in the door!  It's priced online for more than $2,300! This fridge has moveable shelves, a flip-up shelf that accommodates tall bottles or pitchers, and this awesome slot in the freezer which is perfect for frozen pizzas. In fact, we've admired it in person in the showroom, and my own mother liked it so much that she bought one for her new condo! It's decked out with all the bells and whistles including:
External digital display to control temperatures and settings
Self-closing "CoolSafe" doors to ensure tight seal
Ability to drop temperatures with "Power Freeze" and "Power Cool" modes
Energy Star compliant
Here's a glamour shot of the Big Chill Giveaway Fridge! Pretty, huh?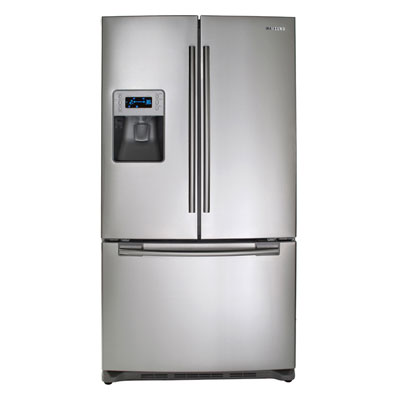 HOW TO ENTER: To throw your name in the hat for the Big Chill Giveaway, click the orange comment button below and tell us about one of your favorite foods (or drinks) to find when you open the door to the refrigerator. (I'm partial to an cold Dr. Pepper and a
lemon icebox pie. Yum!) Remember that all winners are chosen at RANDOM. You can also email your answer to giveaways@nwaMotherlode.com.
HOW TO INCREASE YOUR ODDS: We know some of you REALLY want to win this fridge, so here's how you can help increase your odds. Just send an email to your friends/family and let them know about this giveaway. Be sure to put giveaways@nwaMotherlode.com on the CC line of your email, and we'll give you an extra chance to win for every person that you tell. So easy! Plus, your buddies will want to know about the giveaway so they can toss their name in the hat, too.
You can also get extra chances to win by "liking" our Facebook page. Click here to do that.
VISIT THE FRIDGE IN PERSON: We know mamas like to kick the tires on their new appliances before they make a decision. And we encourage you to go by and visit our Big Chill Giveaway Fridge at the Metro Appliances & More showroom, which is located in U.S. 71 Business between Lowell and Springdale. (Click here for directions.) The showroom is HUGE, so you can't miss it. But don't let the big fancy showroom make you assume this place is out of your price range. Metro has appliances that will fit into every budget.
We've always believed that you can judge a business by the kind of comments they get from local moms. Here are some of the comments about Metro's serivce, which were posted by local mothers in past articles published on nwaMotherlode:

I have shoppped at Metro and you would not believe the HUGE seclection of appliances they carry. You can find whatever you're looking for at a great price. ~ Carmen Miller

I work for Handyman Matters, & we have regularly partnered with Metro to provide appliance for homes we service. They've always been fast, courteous & cost effective. I also purchased an entire kitchen of appliances for my mother's home via their Tulsa store. Wonderful to work with! ~ Kari Carpenter

 I'm an interior designer and nothing can make or break a kitchen design more than the appliances. The Metro staff has always been friendly and helpful and the service is consistent and reliable, just like the products they sell. But the best thing is the price. Metro really does have the best prices around. I even shopped there when I lived in Kansas City because the prices could not be beat!  ~Brandy Overton

We used Metro Builders a few years ago. We were buying our first home and went there to choose our appliances. It was nice to go somewhere where the people knew what they were talking about. ~ Rachael Allan
Our thanks to Metro Appliances & More for the mom-friendly service and this great opportunity to win a fancy new fridge!! Good luck to all our fellow mamas (dads are welcome, too) in the giveaway drawing. Post comments or send your email now!