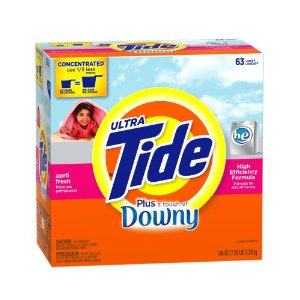 What goes hand in hand with a washer and dryer giveaway? That's right, a laundry detergent giveaway! And not just one little bottle, but free laundry detergent for an ENTIRE YEAR! That's what I'm talkin' about!!
Remember when we told you about the "twist" with this particular washer/dryer giveaway (click here to see the details on that – you've still got time to throw your name in the hat!)? Well, as part of the washer/dryer giveaway from Metro Appliances & More, we wanted to sweeten the deal.
HOW TO ENTER: The way you'll enter to win the laundry detergent is a little different than usual. Here's how: just stop by Metro Appliances & More in Springdale (click here for directions if you need them) sometime between today and Thursday, April 14, to check out the washer/dryer we're giving away, see the awesome appliances in Metro's beautiful showroom and throw your name into the Motherlode laundry basket. You'll find sign-up slips on top of the washer and dryer set at Metro. We know many of you mamas out there are brand loyal, so the winner gets to choose her favorite laundry detergent ($100 value).
AND GUESS WHAT?! Metro is having a special sale day just for Motherlode mamas! The private sale just for us will be on Wednesday, April 13, the day before their big annual sale. We get to take advantage of the sale one day early! Yep, we're special!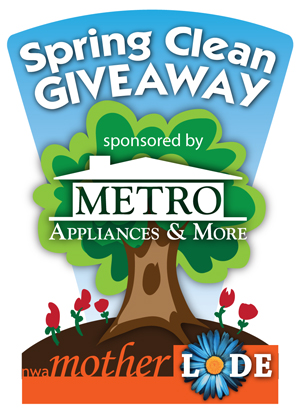 Gwen and I will be at Metro from noon to 2 p.m. on Wednesday with pizza to share with our fellow mamas (we're gonna cook 'em in one of Metro's cool ovens). You can go by the showroom anytime between now and April 14th to throw your name in the hat for the laundry detergent, but if you want to stop by when we're there, we'd love to see you!
We'll choose the laundry detergent winner's name from the laundry basket on Thursday.
If you've never shopped at Metro before, here are some comments from local moms about their experience:
Nancy Smith: We love Metro! We have a friend who works there, and has helped us purchase a fridge and dishwasher. Soon we'll be headed back in to order the next appliances to finish the kitchen. We wouldn't think of going anywhere else. All the salespeople are so friendly and helpful. The showroom is welcoming. It's always a positive experience. Thank you!
Jessica Capps: I love going into Metro just to window shop (if I'm not in for a purchase) because their showroom is HUGE and you can get so many ideas about what your house could look like if/when you remodel. Great prices too; from low to high it's all nice.
Lora S.: I love Metro because they know everything there is to know about every appliance made and give you the best advice.
Jerri: I enjoy shopping at Metro because the salespeople are knowledgeable about their products and the location is convenient. I also love that they sponsor this giveaway each year!
Sue Lynch: Those busy people at Metro really know about the products they sell, and they will take the time you need to make the wisest choice, plus you may just get in on one of their major sales and really save. We recently shopped there for a dishwasher, and we are so pleased with our purchase.
Jenny: Since 1993, we've always shopped for appliances at Metro. They've got the best selection, the best prices and are always willing to help us get the best appliance for our tight budget. I'd gladly pay my old set (from Metro) forward for a new set!!
Lesha Shaver: I LOVE Metro Appliances. We recently got a dishwasher there. They helped us find the best machine for our budget. My parents bought all the appliances for their new kitchen there. They are very honest and helpful–also the best prices.
Nickie Gastineau: I wouldn't go anywhere else but METRO! Customer service is #1. There a many places to shop, but no one can beat their customer service.