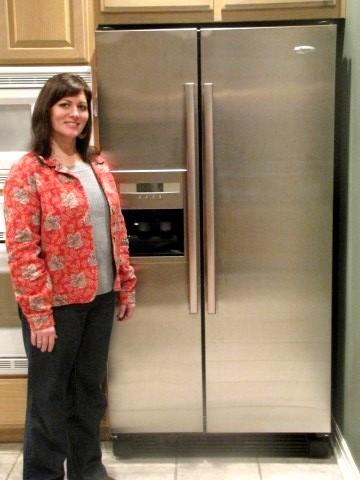 What's in a name? A lot, actually. As mothers, we know how tough it is to find the perfect name for a new baby. And, believe it or not, it's just about that tough to find the perfect name for a business, too. Sometimes the business name has to change to reflect how the business itself has grown.
You guys know we're big fans of what was, until yesterday, called Metro Builders Supply. They gave away some mind-blowing appliances right here on this website. Remember that brand new front-loading washer and dryer set on pedestal stands last spring? (Tracy Easterling of Huntsville won it. Click here to read about it.) And remember just a few months ago when they let us give away a decked-out new refrigerator? (Elizabeth Dietz of Springdale — pictured above — won that awesome giveaway. Click here to see more.)  Needless to say, we like the people at Metro because they know what mamas like and they know we need good machines to get all our work done around the house.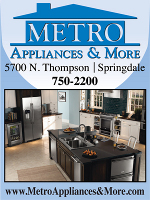 We're happy to announce that their new name is Metro Appliances & More. They do sell more appliances around here than just about anybody else, so this new name reflects that fact. Also, we know from comments we heard from some of you that the old name was somewhat confusing and made you think the store was just for builders or that it was full of lumber and nails. Well, it's not. It's full of just about every kind of modern appliance you can think of and a few you've probably never even imagined.
If appliance shopping is on your "to do" list this year, you really should hit Metro first. Their showroom is dedicated to appliances and the thing is HUGE. It goes on and on, and you'll get a feel for how different appliances look in real kitchen settings. But the best two reasons to shop there are these: 1) Smart salespeople who will actually help you (not hassle you) and who really know about their products. 2) The prices are the best. Simple as that. Ask around. Lots of their customers will back us up on that fact.
So… the next time you're cruising down Highway 71 Business between Springdale and Lowell, stop in and drool over a few shiny new appliances at the newly named Metro Appliances & More. Tell them that you read about them here on nwaMotherlode and that we said, "Love the new name!"