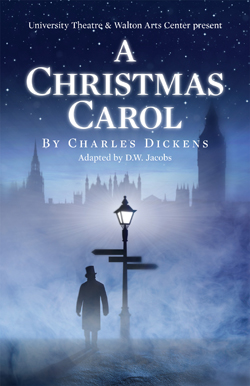 It's a double-header giveaway today! Not only do we have tickets to the Nutcracker (see post above), we also have FOUR tickets to see the on-stage production of A Christmas Carol at the Walton Arts Center on opening night, December 3rd at 7 p.m. And before you get your Scrooge on, you can chow down at the family-friendly U.S. Pizza, just a couple blocks away from the Walton Arts Center on Dickson Street.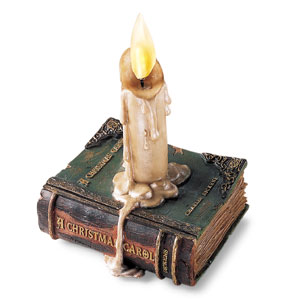 ABOUT THE SHOW: This weekend's production of this Dickens' classic is by the University of Arkansas Theatre and features those ghosts we know so well — Christmas Past, Christmas Present and Christmas Future. Your family will enjoy Ebeneezer Scrooge's journey and transformation from miser to Mr. Generosity.
There are additional performances of A Christmas Carol on Saturday, December 4th at 2 p.m. and 7 p.m. Call the box office at 479-443-5600 for ticket information or visit them online by clicking here.
ABOUT THE FOOD: U.S. Pizza is a favorite spot of thousands of people who visit Dickson Street. In fact, it's so good that I've heard more than a few people say that, once they've had pizza from U.S. Pizza, they are forever spoiled after that. No other pizzas seem to live up to that standard. What makes it so great? Some say it's the crust. Others say it's the sauce. I have no idea, but I do know it's goooooood. If you're not into pizza, the restaurant also has award-winning salads so you'll be covered either way. (Click the logo below to check out their online menu.)

HOW TO ENTER: To throw your name into the hat (winners are chosen at random), just tell us about a memory from Christmas Past, or tell us what you're doing this year for Christmas Present, or you can say what you hope to do during a Christmas Future. Your choice! Click the orange comment button below to post your comment, or you can email your entry to us at giveaways@nwaMotherlode.com.
HOW TO INCREASE YOUR ODDS: As always, we love it when our fellow moms help spread the word. Send an email to your friends or family about the giveaway, and we'll give you an extra chance to win for every person you tell. Just be sure to put giveaways@nwaMotherlode.com on the CC line of your note so we can give you proper credit. We promise not to be a Scrooge about it!