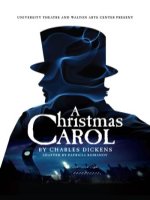 Melinda McDaniel is the lucky winner of four tickets to see A Christmas Carol at Walton Arts Center! We couldn't reach Melinda last night to let her know, but she got congratulatory messages on her cell phone and e-mail so she'll find out soon enough! Just give us a call — or e-mail — and we'll fill you in on the details, Melinda!
The University Theatre and Walton Arts Center are bringing this Christmas classic to the stage and the show will feature four public performances: Friday, Dec. 5 at 7 p.m., Saturday, Dec. 6 at 2 p.m. and 7 p.m., and Sunday, Dec. 7 at 2 p.m. Tickets range from $14-$22 and you can still snag one for yourself by calling the Walton Arts Center at 479-443-5600 or online at waltonartscenter.org.
Speaking of winners, Lane Brown of Centerton recently picked up the gorgeous pearl necklace she won from Underwood's! This is a picture of Lane the first time she put the necklace on at the store. Congrats, Lane and Melinda!