6 Better is a handful with quietness, than both the hands full with travail and vexation of spirit.  Ecclesiastes 4:6 (KJV)
By Bro. John L. Cash, "Country Preacher Dad"
At the end of October I was browsing through the satellite TV channels, and I noticed we had already been provided with five new channels of Christmas music. When I told my wife Susan, she said, "John, please don't turn it on yet.  I'm not sure I can bear it. I'm just not ready for Christmas yet." Surprisingly enough, I knew exactly how she felt.
I'd already had the exact same thought in August when I had to walk through a display of Yuletide decorations on my way to purchase school supplies. It's sad when the sight of a decorated Christmas tree fills your heart with dread and a queasy feeling in the pit of your stomach. It seemed like a visual reminder of an endless list of  holiday tasks that would have to be met before an unyielding deadline.
Now don't get me wrong. I love Christmas. In fact, I probably love Christmas as much (or more) than the average person. But I feel about Christmas the way I feel about Waffle House. I love Waffle House. Whenever the Cash family is making a 10-hour road trip, we always eat one meal a day, and that one meal is always at Waffle House. After eating our fill of the "All Star Breakfast" (which consists of the entire left side of the menu), we are satisfied and good to travel for the rest of the day. But as wonderful as our breakfast was, whenever we pass another Waffle House at the next exit, nobody ever begs to stop. Brunch has become ballast. Too much of a good thing has become oppressive.
Don't tell anybody, but preachers sometimes have trouble practicing what they preach. I mean, every December I tell the people in my church that Christmas isn't about the hustle and the hype. I tell them that "Hope was born in the manger" and "Jesus is the Reason for the Season." In light of that, I've decided to get a grip on myself and do the Christian thing this year. In today's Scripture text (at the top), wise King Soloman says it is better to have one hand full (with peace) than both hands full (with stress). So, as for me and my house, we're not going to "blow a gasket" in this holy season. I've decided upon a  plan based on the words to the common carol: "Have Yourself a Merry Little Christmas":
1)  My goal is to have a Christmas—not to placate the god of money and commerce. If Jesus is honored, I have met my goal.
2) I'm aiming for a little Christmas. That means I don't have to put out all the decorations. I don't have to keep every tradition. I'll only do the things that bring about the most happiness (with the minimum of stress.)
3) I'm planning to have a merry celebration. I plan on relaxing and enjoying all the things that come my way this season. A dear friend of ours (who is a missionary in Ukraine) sent us a card about her Yuletide that I've never forgotten. She wrote, "We had a wonderful holiday this year. I did fewer things this year, but we really enjoyed each thing that we did." That's my plan, too.
4) I won't forget the words "have yourself." My family's Christmas doesn't have to be like anybody else's. It doesn't have to be perfect or like the imaginary ones I see on TV. We'll celebrate the coming of the Saviour in the way we feel is best.
I've felt so much better since I made this resolution. In fact, I'm really looking forward to December. Dear mamas, your babies are growing up so fast. Take time to enjoy them in this happy season. And "Have Yourself a Merry Little Christmas", too.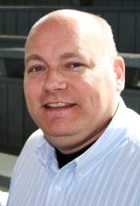 Dr. John L. Cash is the "Country Preacher Dad." He was raised in Stuttgart, Arkansas, and has spent the last 25 years being a country preacher in the piney woods five miles south of the little town of Hickory, Mississippi. (On week days he works at a public school.)  He and his lovely wife, Susan, and his sons, Spencer (age 19) and Seth (age 16) live in the parsonage next door to the Antioch Christian Church (where the Preacher and his family ate at Waffle House last week on their way to Elizabethton, TN where they spent Thanksgiving with the boys' grandparents—Oma and Opa.) He would love to hear from you in an email sent to jcash@scott.k12.ms.us.