Note from the mamas: Congratulations to winner Erin Freeze!
My kids are very excited today because I just bought us four tickets to see the Imagination Movers live in concert at the Walton Arts Center. (I took advantage of the family four-pack of tickets for $66, which I'd say is a very good deal for a nationally-known kids group with a show on the Disney Channel. Click here for info on the discounted price.)
Local mom Rebecca Arnold and her little girl are also excited because they WON four tickets last month here on nwaMotherlode to see Imagination Movers as well as a gift card to U.S. Pizza on Dickson Street in Fayetteville, just steps away from the concert. And here's more good news: We've got FOUR MORE FREE TICKETS  to give away for this show! 🙂 The tickets are for the Saturday, July 30th performance at 11 a.m. at the Walton Arts Center. Once again, we're pairing the tickets with a $25 gift card for our favorite pizza in Fayetteville, U.S. Pizza.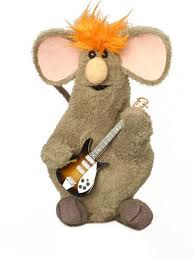 ABOUT THIS SHOW: The Imagination Movers premiered on the Playhouse Disney channel in 2008. In the show, these four friends — Dave, Rich, Smitty and Scott — work as a team of movers who often need to use their imagination to solve problems. Also appearing in the show are Uncle Knit-Knots, Nina and Warehouse Mouse. The group is known for some of their catchy songs including "Brainstormin'," "My Favorite Snack," and "Clean My Room". (We mamas especially like that last song.)
The Imagination Movers are so hip that they were described by Indie Kids Rock as "the U2 of kids music." The lyrics are fun and completely appropriate for kids, but they're not so syrupy sweet that you'll get a toothache just listening to them.
ABOUT THE FOOD: As always, we like to send our ticket winners to a concert on a full stomach. So our friends at U.S. Pizza on Dickson Street have offered to drum up some dinner for you first. The ticket winner will get a gift certificate to have lunch before or after the show, which means you'll find out why some people won't have pizza anywhere but U.S. Pizza. There's something about the famous crust and sauce that has created a very loyal fan base of customers over the years. Their salads and sandwiches are amazing, too, and they're very kid-friendly.  Click here  or on the logo below to see their menu.

HOW TO ENTER: To throw your name in the hat for this drawing, just click the big orange comment button below and tell us about something fun you have done this summer with your kids. Our winners are always chosen at random, so anyone can win. We'll contact the winner via email at the end of the week. You may also enter the drawing via email by sending your answer to giveaways@nwamotherlode.com.
HOW TO INCREASE YOUR ODDS: As always, we reward mamas who help us spread the word about awesome giveaway opportunities. Just send a note about this giveaway to your friends and be sure to put giveaways@nwaMotherlode.com on the CC line of your email so we can give you an extra chance to win for each person you tell.
We wish you good luck in the drawing, but if you don't want to rely on luck to get you into this show, book your tickets by calling the box office because this performance is likely to sell out. (Remember they're offering a $66 price for four tickets!) If you happen to win the tickets from nwaMotherlode, use them to invite friends to go along with you or let us pick another winner at random. For ticket info, click HERE or call the box office at 479-443-5600.