If you know Kim, you know she loves animals. She used to be our pet sitter back when we had dogs, cats — and chickens, ha! She's a fabulous lady, boy mom and pet whisperer.
Get to know Kim better in this fun Q&A:
Kids' names and ages: 
Camren Fischer, 18 & Sam Fischer, 16
How would you describe your family's "personality"?
In one word, active. Collectively, we enjoy things such as running/walking, fishing, hunting, kayaking, hiking.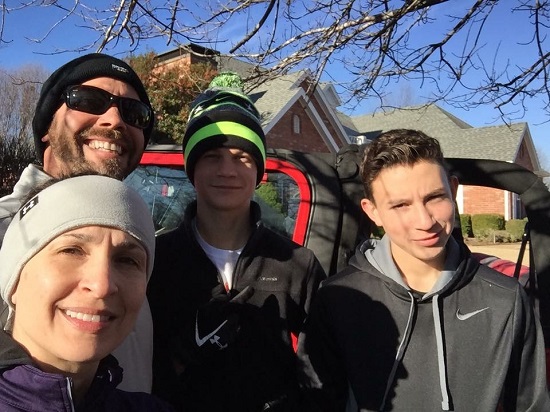 Tell us about your sons:
Camren will be a senior and Sam will be a junior at Fayetteville High School this coming 2018-2019 school year.  Both Camren & Sam are very active in school, academically, athletically and otherwise.
Both boys enjoy running cross country and track with Camren looking on to run collegiality. They both enjoy fishing with Sam being our avid fishermen and a part of the NWA Youth Bass Club. Camren and Sam also enjoy hunting and pretty much anything else having to do with being outdoors.
Where do you live and what brought you to NWA?
We have lived in Fayetteville for 12 years now.  My husband and I met here in Fayetteville and then moved to Little Rock for about 9 years.  We moved back to NWA as we knew this was where we wanted our kids to grow up.
Where are your family's favorite places to play in the area? 
My family enjoys most anything outdoors. A few of our favorite places would be; fishing at Lake Sequoyah, hiking at Devil's Den State Park, walking/running local trails and floating the Buffalo River.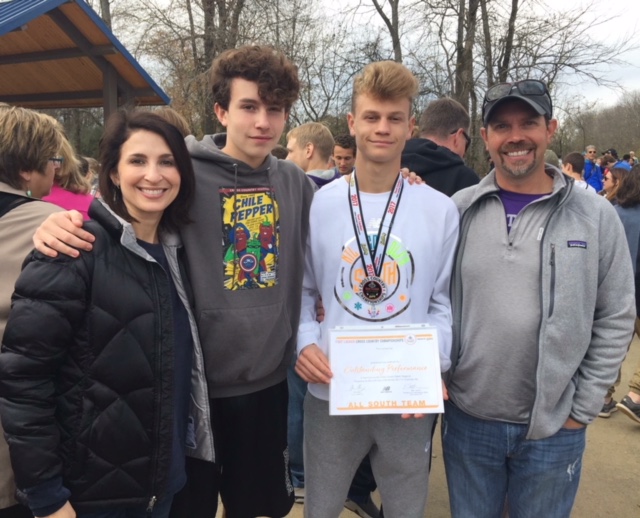 Tell us about a typical day in your life:
I start my day with an early morning walk, prep my guys for the day, then get myself ready and off to work at EOA of Washington County Head Start.  I work as a Family Advocate with the children and families in our program.
After work, I prep for an early dinner as my boys always come home famished from the school day and the completed cross country/track practice. It then depends on the boys extracurricular schedule as to what will come next in the evening.  If nothing is scheduled, then simply prep for the next day to repeat. 🙂
Which three things equal a fun summer for you?
Down time with my family, vacation, going to the Farmer's Market – so pretty much all things relaxing.
What's something you eat over and over again?
Pineapple Outshine Popsicles
What's something your kids ask you to cook over and over again?
Sriracha Chicken Pasta (so decadent!)
What are your favorite hobbies?
Watching British t.v., cooking and rehabbing old furniture
What would your best friends say you can't live without?
My family, that very much includes my pets
Lake or beach?
Beach
Where's your happy place when the going gets tough?
My happy place is definitely in the comfort of my home.
Who do you most admire? Why?
While I admire so many like our teachers, police officers and military, I would have to single out my dad as most admired.  He put himself through college, graduating as the first college graduate in our family.  But, he didn't stop there as he went on to put himself through medical school as well. While clearly I am biased, I mean it when I say he was one of the best doctors out there working diligently to serve each and every one of his patients.
What do you most want people to remember about you?
I am a genuine, down-to-earth and kind-hearted person.
One word to sum me up?
Blessed
Click here to read more 5 Minutes with a Northwest Arkansas Mom interviews. Our many thanks to First National Bank of NWA for sponsoring this feature, which celebrates all the unique moms here in Northwest Arkansas! CLICK HERE to visit the FNBNWA website or follow them here on Facebook. FNBNWA is a full-service bank and has multiple branches, including:
801 N Dixieland Road, Rogers, 479-621-6800
3706 Pinnacle Hills Pkwy, Rogers, 479-464-9060
E. Pleasant Grove Rd., Lowell, 479-659-7100
350 E. Centerton Blvd., (Hwy 102), Centerton, 479-795-4200
2638 E Joyce, Suite 1 Fayetteville, 479-856-7800
Save
Save