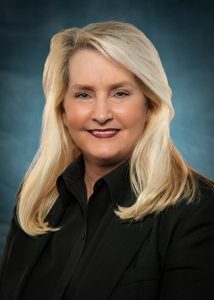 We met Tresa Oldham after hearing about her daughter's service dog. Tresa wrote about Karolynn and her phenomenal dog, Chip, in a book that published recently.
We'll let Tresa tell you about that — and more — here:
Kids' names and ages:
I have three grown children, 2 sons and 1 daughter, who now have families of their own. I also have a young adopted daughter, 17, who still lives at home. I am blessed with 5 grandchildren.
Tell us about your most recent book and why you wanted to write it: 
When I was 49 years old, my husband and I had a unique opportunity to adopt a little girl.  She was 8 years old and born with Fetal Alcohol Syndrome. She was later diagnosed at age 11 with Post Traumatic Stress Disorder. The adoption experience and how we encountered this opportunity was a miracle in itself, which I wrote about in my first book, "God's Grace Through a Child".
Being Karolynn's mom, God has allowed me to experience not only the amazing love a disabled child can give you, but a glimpse of what it feels like to have an invisible disability, as well as the constant struggles you face as a parent of such child.
After years of therapy, panic attacks, nightmares and emotional breakdowns, we decided to purchase a service dog to help Karolynn with her extreme anxiety issues. The experience with her service dog, Chip, has been nothing less than a miracle that I wanted to share and offer hope to those facing the same challenges.
I also wanted to help educate the public on service animals, their purpose and proper etiquette. The book is titled; "An Angel Beside Me" and can be purchased, along with my first book, on Amazon.  I am passionate about children with disabilities.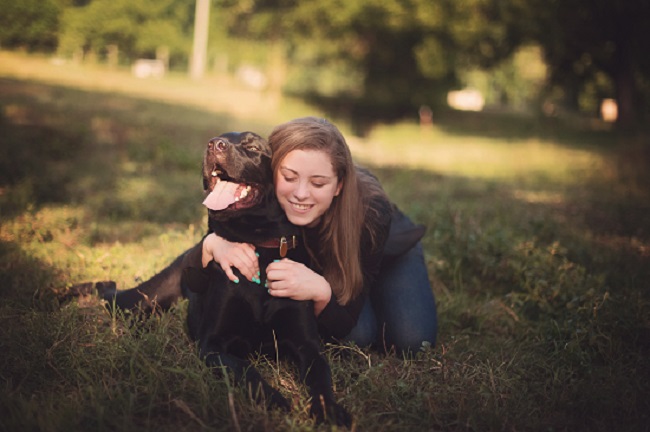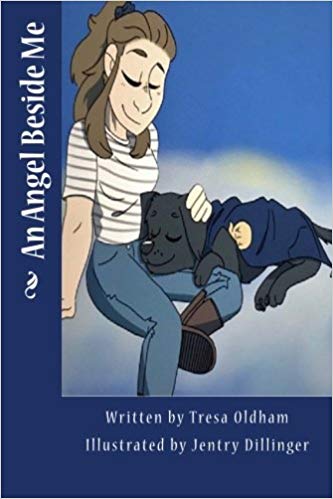 How would you describe your family's "personality"? 
We are a structured family. We go to work, we go to school, we go to Church.  To some it might seem boring, but we a very happy and the safety of routine is good for Karolynn.
What does your family like to do all together: 
We love to fish!  We love to walk in the cool mornings on trails with Bijou (our German Shepherd) and Chip.  Karolynn and I love to catch a Disney movie now and then at the local Malco theatre or getting a mani and pedi on a Sunday afternoon.
We also love to shop at Belk or sit and read a book at the local Barnes and Noble while sipping our favorite hot chocolate or frappuccino from the close by Starbucks.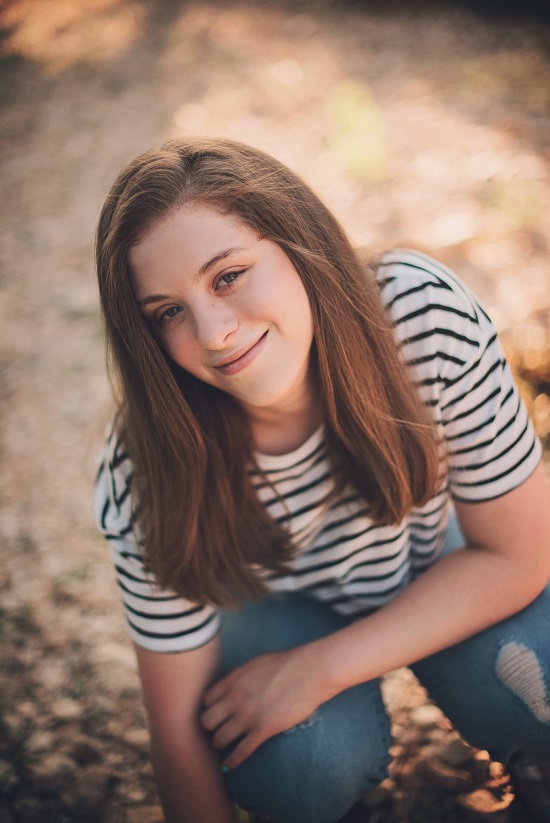 Where do you live and what brought you to NWA? 
Our family, like many others, was brought here by Walmart.
I was an HR Manager for the DC in Plainview, Texas, while my husband taught Agriculture. I was promoted in 1995 to a Regional and moved to NWA. We built a home in Bella Vista, where we still live today, and my husband took the Agriculture teaching position at Bentonville High School. He has taught Agriculture for 37 years. We have been married for 38 years.
Where are your family's favorite places to play in the area?
We love the walking trail in Bella Vista.  It's so peaceful and beautiful.
What's something you do when you need down time?
Find a quiet place, no TV, no music, no cell phone; eliminate all the noise and just listen to the quiet. It brings peace and comfort.
What's something you cook over and over again (or pick up on the way home from work)? 
Las Palmas Mexican Food in Bentonville; one of our favs to pick up on the way home. Fast, easy and delish!
What are your favorite hobbies?
I love anything that has to do with family heritage, and lots of details. I love to write, research family history, look through family photos and old movies.
When my grandmother became very ill, her small home was being cleaned out by a few family members. I noticed in a heap of trash a small tin box with a ribbon around it. Intrigued, I pulled it from the trash heap and discovered inside old letters in envelopes dated, 1933 and 1934, labeled "Love Letters".
My grandparents' last name was "Love". These "love letters" were written back and fourth between my grandmother and grandfather when they were courting. They were in their late teens. I think I have read those letters a hundred times and shared them with my children. I think knowing where you came from is very important. The letters have always been a treasure to me and will have them until the day I leave this world.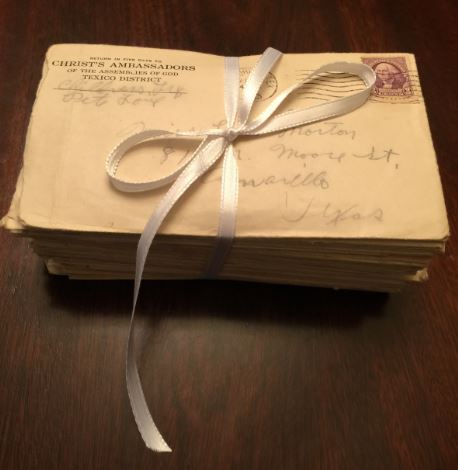 I also found around 30 journals where my grandmother had written diary notes for years. I took all of the journals, put then in order and typed every sentence she had ever written, created bound books, titled it, "My Life Story, by Lois Love" and gave them to my children for Christmas one year. They treasure them.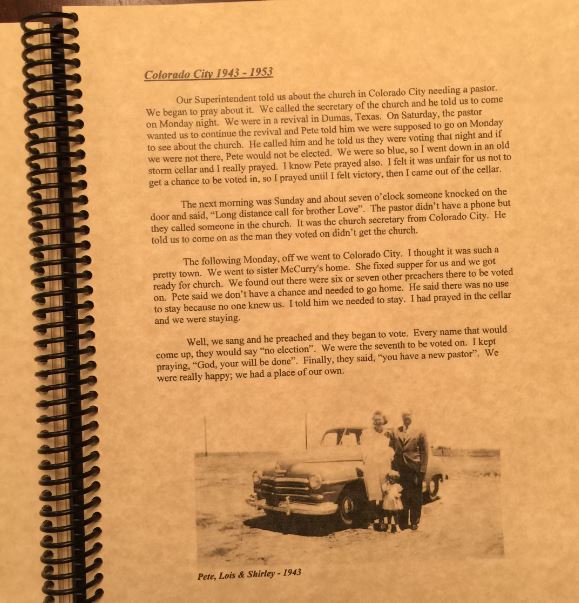 I've created family trees with pictures and biographies, scrapbooks with tons of family history, and even made a mission statement for our children using each letter from our last name (OLDHAM) as the begging of each sentence: Open our hearts and homes to one another, Love our children, Dedicate ourselves to Him, Humble ourselves, Accept one another unconditionally, Magnify Him in our hearts and home, Stay close to Him through the good and the bad.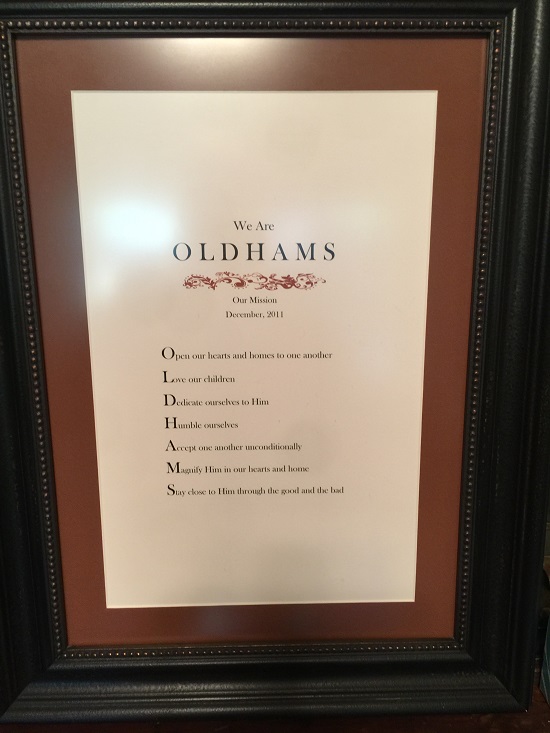 Who do you most admire? Why? 
Dr. David Jeremiah.  I never met him, but consider him one of my dearest friends. He is the senior pastor of Shadow Mountains Church in El Cajon, California, and I have listened to his daily broadcast on my cell phone every single day for 9 years straight. He is truly a blessing and God uses him to speak to me.
What do you most want people to remember about you? 
How I loved the Lord, my husband and my children.