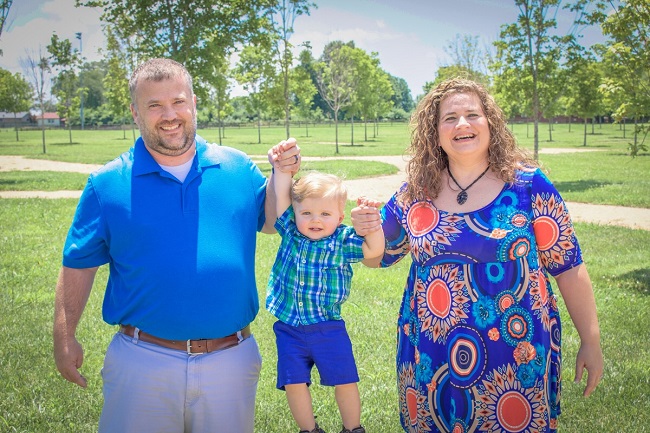 Son's name and age:
Clark Henry Fittro – he will be 2 on 12/4. My husband is Zach.
What's a piece of (hard-won) advice you give other mamas?
Pick your battles, otherwise you will find yourself saying "no" and "Stop" and "Please do not do that"…all day long and that is just too much negativity. So if the child will not get hurt and it isn't a priceless family heirloom…Let it Go and just laugh.
Tell us about a typical day in your life:
We are night owls so we get up around 9:30, get dressed, eat breakfast, feed the cat, and I watch "The View" (It's my coffee time) while Clark eats, then we switch to PBS cartoons and we play.
I typically have errands or chores to do, so I do those while Clark plays or "helps"; we have lunch, and then I do some work (I work PT as the nursery coordinator for my church and do some legal work, mostly Pro Bono for friends/family, from home) and Clark plays and/or harasses me (especially if I am on the phone – what is with that? I pick up the phone and suddenly my son is starved for attention and demanding it.)
Of course during this time I am also changing diapers, cleaning up little messes, playing games, reading books and just generally making sure the child stays alive. Then it is nap time so I put him down for a nap and get to actually focus (for an hour or hour and a half) on whatever task I need to complete that day.
Then it is time to start thinking about dinner, and looking forward to Daddy coming home. While I cook dinner my husband plays with Clark and we all have dinner, I clean up the kitchen and we have family time. Once my husband gets home, other than dinner and cleaning up after, I try to just focus on spending time with him and Clark – (and my sister, who is also living with us right now for a little while). Then it is time for bed, my husband usually puts Clark in his PJ's and reads him a book, then he goes to bed and I put Clark to sleep (again night owl typically goes down around 10pm). THEN, after everyone is in bed I watch TV and have about an hour of quiet to myself. Then I make sure the house is picked up, take care of the cat, lock the doors and head to bed.
What did you want to "be" when you grew up?
A teacher or a veterinarian.
What are your favorite places to hang out in NWA as a family?
Oh my goodness, so much to do here but our favorite place is probably just at home together. However, we love the Hogs so we always enjoy a good Razorback game; a concert in the park; the Fayetteville square activities; the Amazeum and Crystal Bridges…
What's your favorite guilty pleasure?
I LOVE General Hospital, have watched it my whole life, tape it everyday, and it is what I watch at night during my alone time.
What's something you'd love to learn?
To fly a plane.
What's the last thing you laughed out loud about?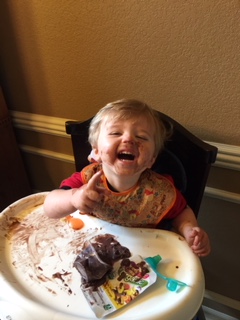 My son, he makes me laugh several times a day. Either dancing a jig, or climbing halfway into the dryer yelling "hello" to hear the echo, or just being silly — he keeps the laughter flowing for sure.
What's something you're known for among your friends?
Speaking my mind. If you want a real answer, ask and I will give it to you — but don't ask if you don't want honesty.
Who do you admire most? Why?
In general, working mothers – not that stay-at-home moms do not work (because WE DO and it is many days more stressful than my full-time job was — much to my surprise) but to work all day at a full time job AND hold the fort down at home, I know that is a struggle and I know they have to feel like they are not adequately meeting everyone's needs (because I do and I am here each day).
So those women who "do it all", like my mom did, have my admiration. Specifically, my mom! She worked more than full time most of my life, still attended events, made Halloween costumes by hand, and took great care of my brother and I — it is pretty amazing, especially now that I actually live what that means.
What's a sure-fire way to help you relax at the end of the day?
Chocolate and General Hospital, LOL
Who's the cook in the family?
I am, but my husband can hold his own too.
What's your go-to meal after a busy day?
Pizza, my husband is always happy with Pizza.
One word to sum me up: Thankful {Thanks for letting me do this – it was fun and made me think of good things today.}
Click here to read more 5 Minutes with a Northwest Arkansas Mom interviews. Our many thanks to First National Bank of NWA for sponsoring this feature, which celebrates all the unique moms here in Northwest Arkansas! CLICK HERE to visit the FNBNWA website or follow them here on Facebook. FNBNWA is a full-service bank and has multiple branches, including:
801 N Dixieland Road, Rogers, 479-621-6800
3706 Pinnacle Hills Pkwy, Rogers, 479-464-9060
E. Pleasant Grove Rd., Lowell, 479-659-7100
350 E. Centerton Blvd., (Hwy 102), Centerton, 479-795-4200
2638 E Joyce, Suite 1 Fayetteville, 479-856-7800
Save
Save