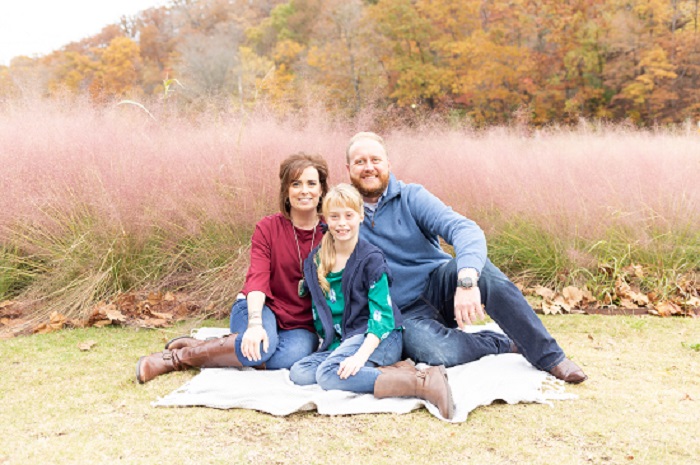 Kim Lowe thrives on making people laugh, including us! We love her comments on Facebook and on Motherlode posts. We met her in person recently at a Walton Arts Center show.
Get the scoop on Kim and her family here:
Kids' names and ages:
We have one daughter, Reagan, and she's 9 years old (going on 16).
Where do you live and what brought you to NWA?
We live in Bentonville, Arkansas, and we absolutely love it here! We moved here from Pennsylvania in 2010 for my husband's job. #HesTheButterBoy #LandOLakesInc
What's the funniest thing that happened to you as a mom most recently? 
Reagan thinks it's quite funny when I sometimes struggle to get out of a sweater. Recently, I was stuck with my arms in the air and the sweater around my face, and she stood there laughing with tears in her eyes. It's good to know she'll be a great support someday! LOL
The scariest? 
The scariest thing that happened was when our sweet girl had such severe stomach pains that we had to take her to the ER. Luckily, it wasn't appendicitis, but a strange virus in her abdominal lymph nodes. She is better now, thank goodness! We are so grateful for a family doctor who is quick to respond and react in these times. Dr. Joel Fankhauser with Direct Care Clinic is the BEST around!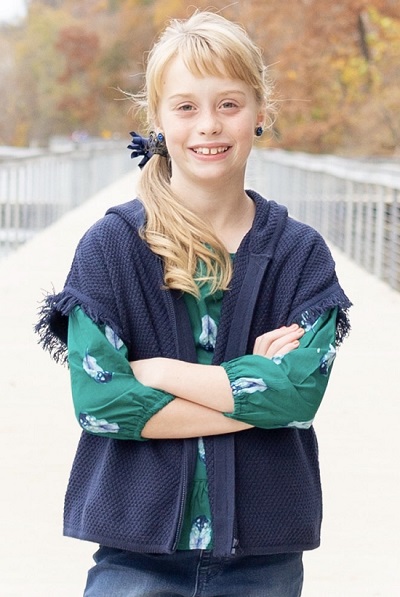 Where are your family's favorite places to play in NWA? 
We love going to the downtown Bentonville square during First Fridays, the Walton Arts Center, the movie theater, the Amazeum, and the AMP! Our area has so much to offer! Even after being here almost nine years, we still have so much to explore. It's exciting!
Tell us about your recent girls trip:

It was long overdue! I am so lucky to have three women in my life that are the sisters I never had. Jenn relocated to California a couple years ago, and even though we stay in touch daily, it's definitely not the same. So, it only seemed reasonable that we all try to meet in the middle! Jenn caught a cheap flight out of Cali, Tessa and I piled in the car, and we headed to Dallas. Time flew by way too fast, we had tons of fun, laughed, cried, laughed some more, and ate way too much food. We definitely intend to make this an annual tradition! Girls trip…cheaper than therapy. LOL Shout out to my sweet friend, Valerie Foster, who made us these super cute shirts!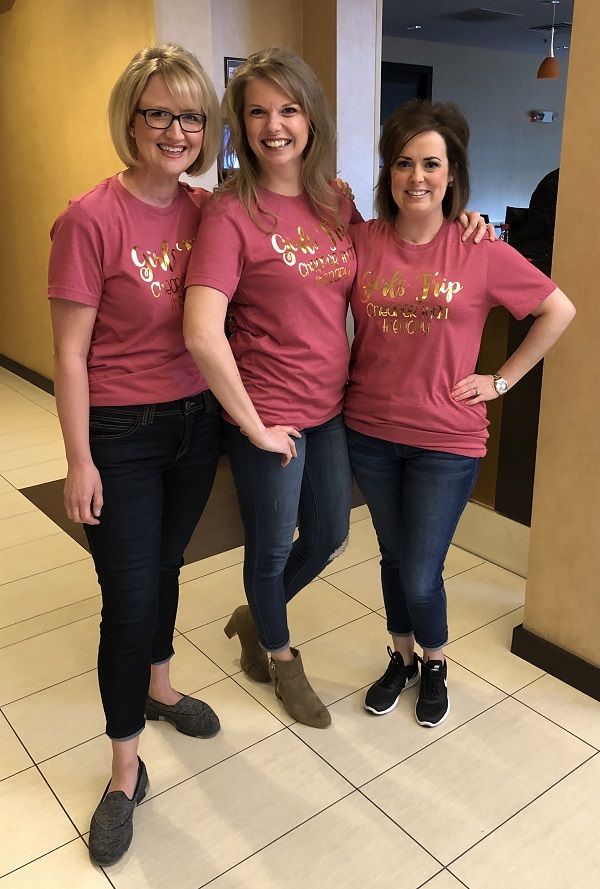 You mentioned something about a new mattress with "purple sheets". We need to know about this! 
Ha! YES! We actually just received our new Purple 4 mattress yesterday. The first night's sleep was amazing! I didn't wake up achy, so that's a plus! If you're a hot sleeper, it's definitely for you. The jersey sheets that Purple recommends are incredibly soft and breathable, too. Let's hope my husband and I really do get a better night's sleep; otherwise, thank goodness for 120-day trial periods. LOL
Share a typical day in your life with us:
I usually start my day off waking up at 6 a.m. making breakfast for Reagan, and getting her ready for school. Once she's on her way, I start my daily chores (unload the dishwasher, sweep, start laundry, feed our cat, etc.). Fun stuff! Ha! After that, I sometimes start projects for upcoming school parties or church activities.
I'm frequently running errands, and I try to get as much of that stuff done while Reagan is in school. Pretty sure every Mama tries to run errands in peace and quiet when they get the chance to. LOL It's time for spring cleaning, too. That'll definitely keep me busy!
If you could vacation anywhere in the world this summer, where would you go? 
I'd actually really love to go to Ireland or Australia! Each year, we travel to Newport Beach, California, for two weeks. We absolutely LOVE Newport Beach. It's a great family tradition that has continued for several generations. I LOVE the beach, but it'd be nice to see if Ireland or Australia really *do* look like the pictures I've seen before. Ha!
If you could magically learn a new skill, what would it be? 
I used to cross stitch, and I loved it! I could watch my favorite TV show and slowly create something beautiful. I haven't cross stitched in years, and I don't have the slightest memory of how to even begin. Whenever I do have more time on my hands, I intend to YouTube how to cross stitch and pick up right where I left off!
What's something your friends might not know about you? 
Most friends probably don't know that I iron my daughter's outfits for school every single day, and I have since she began kindergarten. I got my love for ironing from my Dad. He served in the U.S. Army for over 20 years, and he'd always be ironing his dress blues or his BDUs. He used to always joke that, "If the crease doesn't cut you, it's not ironed good enough." LOL So that began my OCD and love for ironing. My husband certainly never complains that I love to iron. LOL
If you got an unexpected gift of (a lot of) cash, what would you do with it?
Hmm…That's a good question. I know I'd for sure pay off our mortgage and our parents's mortgages. I'd save more for retirement (can you ever have enough for retirement?!), as well as for Reagan's future.
I'd also donate to Mayo Clinic in Minnesota, as well as the American Heart Association. I've had six open-heart surgeries and was on ECMO life support twice. If it weren't for the wonderful, smart, and amazingly talented doctors and nurses that cared for me, I wouldn't be here today. It'd be the least I could do to show my appreciation to each and every one of them. #AndNowImCrying
How do you relax when the going gets tough? 
When I get stressed, all I want to do is sleep. So, if I have the time to, I'll take a nap. Otherwise, reading or watching my favorite shows definitely help!
Who do you most admire? Why? 
I admire both of my parent's and especially my husband, but at this time in my life, I most admire my former anesthesiologist, Dr. Bill Oliver from Mayo Clinic. He is one of the reasons I'm alive today. He was passionate and loved what he did to help care for his patients, all while battling cystic fibrosis.
Not many doctors would come in on their day off to sit with you and try to lift your spirits; he could've easily gone home to watch Alabama football and forget about another stressful day at work, but he didn't. He always did more than expected, always going above and beyond. He will be loved and cherished by our family forever.
He didn't let CF stop him from living the life he always wanted to live. He persevered, and I hope to have the same drive that he did throughout my entire life. God bless this wonderful man.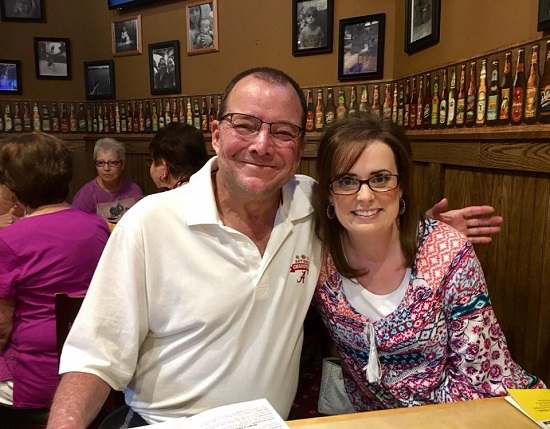 What do you most want people to remember about you? 
I hope that when people think of me, they think of someone who was always smiling, always helping others, and always trying to make people laugh (whether my wise cracks were funny or not). Ha!
One word to sum me up: Caring