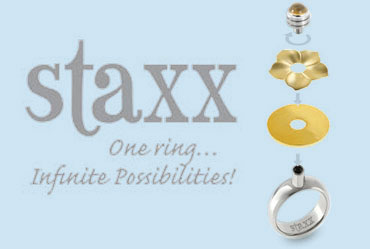 Between now and Christmas, we have some really sparkly giveaways for you. So let's not waste any time! Today's sparkly giveaway is one of my favorite new finds at a favorite shopping spot in Rogers — Kate Austin Jewelry & Gifts. If you haven't been there yet, you've got to go check it out. It's in the Tuscany Square shopping plaza on Pleasant Grove Road, about a minute off Interstate 540. I've found lots of cute things at Kate Austin, including my favorite chunky bracelet, a sweet little necklace for my daughter and an insulated lunch bag for my son's teacher last year.
During a recent trip to Kate Austin Jewelry, I found this unusual ring called the Staxx Ring. I've never seen anything exactly like it. I'd describe it as "Legos for ladies." You build your own ring with various pieces. When you're tired of that look or you put on a different outfit, the ring can change right along with you. Just take it apart and build it in a totally different way with different pieces or colors or shapes. It's creative, practical and genius, if you ask me.
I had so much fun standing there at the jewelry counter building and then rebuilding different rings with totally different styles and colors. You know how sometimes you're in the mood for something small and understated and then other days you want something big and bold? This ring totally understands those different moods and can change to accommodate them.
Below is a photo example of one of the Staxx ring gift sets. It's called the "Garnet Gala" and it retails for about $120. But if garnet is not your favorite stone, don't worry because we're making this giveaway very flexible. The winner will receive a base ring and then get to choose her favorite pieces with which to build her own ring.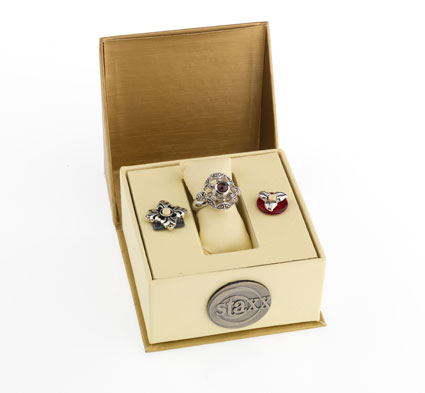 If you're like me and you're still in the thick of Christmas shopping, this ring might be a good choice for a sister, friend, mother or a teenage girl whose sense of style is always changing.
Here's what makes this really nice for the average mom — it's affordable. The individual pieces of the ring vary in price and start as low as two dollars. Or you can buy a gift set like the one above that has several pieces in it, kind of like a starter set. If you give the ring as a gift, then you could just buy a gift card for future birthdays so the recipient can choose her favorite pieces and add to her collection.
HOW TO ENTER: Since most of us are helping kids write letters to Santa or hearing from our teenagers about their extensive wish list, we want to know what YOU want from Santa this year. Yes, you! The mama! What would you love to find wrapped up with your name on it? Click the comment button below and write your wish or wishes. You can also e-mail your wishes to giveaways@nwaMotherlode.com.
As always, we'll give you an extra chance to win for every friend you e-mail about the giveaway. Just be sure to put giveaways@nwaMotherlode.com on the CC line of your e-mail so we can give you proper credit!
Good luck in the random drawing! We can't wait to read about what our fellow moms have their eye on this year. For more info on the Staxx ring and other accessories from Kate Austin Jewelry & Gifts, click here to visit their website.