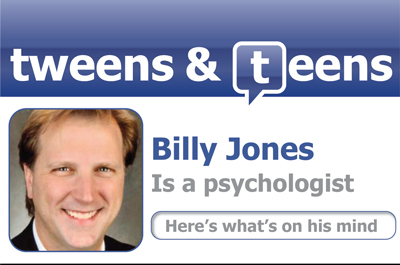 Back by popular demand, the Tweens & Teens doctor is in! Motherlode's newest monthly feature is designed to help moms navigate through the tween and teen years. Dr. Billy Jones, a child psychologist with Mercy Health System in Rogers, is our resident expert and go-to guy for answers moms need to know.
We all know how tweens and teens sometimes have big, emotional reactions to not-so-big things. And typically, it's the mama who's on the receiving end of all that drama.
In the video podcast below, Dr. Jones gives us a lesson in how to use the "Problem Solving Ruler." It's a technique he developed while working with kids to help them respond appropriately to problems and learn to deal with them.
Dr. Jones has used this strategy with his own son as well. This method can be used with kids as young as 8 or 9. Click the "play" arrow below to see the video.

Click HERE to print your own copy of the "Problem Solving Ruler" to practice with at home. Let us know how it works in your house!If you have a specific question you'd like Dr. Jones to answer, e-mail us at mamas@nwaMotherlode.com and we may feature your suggested topic on a future installment of Tweens & Teens.