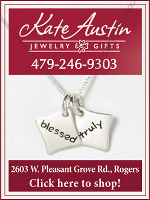 Congratulations to Northwest Arkansas mom Amanda Reed, winner of the "Truly Blessed" necklace from Kate Austin Jewelry & Gifts! The comments were so touching (or downright funny) that they definitely put us all in the mood for Mother's Day, I think.
Amanda is mom to 15-month-old Addison and is a very crafty lady. She owns Bibs & Cribs, a company that launched around the same time as nwaMotherlode.com. Amanda and I met at a local craft store and struck up a conversation out of thin air.
Amanda designs one-of-a-kind products that are simply adorable. One of my favorites is this birthday banner pictured right. CLICK HERE to jump over and see some of Amanda's other creations (including her precious daughter).
Amanda can't wait to stop by Kate Austin Jewelry & Gifts in Rogers (on Pleasant Grove Road) to pick up her gorgeous necklace.
Thanks again to owner Claire Branscum for donating this piece of beautiful jewelry just in time for Mother's Day. The "Truly Blessed" necklace is made by designer Karibou and retails for $60. It's sterling silver and the two dainty tags bearing the "truly blessed" sentiment hang on a 16-inch chain with an extender.
If you missed it in the comments, this is what Amanda said:
"I feel so blessed that I have this adorable little girl to teach ME all sorts of things! It is amazing what I can (and do) learn from her!"