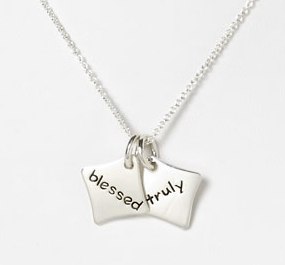 Editor's Note: We'll choose a winner at random today (Friday, May 8) at 2 p.m. Good luck and happy, happy Mother's Day.
When I spotted this "Truly Blessed" necklace on the Kate Austin Jewelry website, I fell in love with it. I stopped by the Kate Austin shop just to visit it in person. If this simple, beautiful necklace doesn't capture the essence of motherhood, I don't know what does. So I put it on my "wish list" immediately. And I was really happy when owner Claire Branscum called me later to say she would o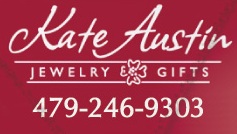 ffer this piece as a Mother's Day giveaway for one lucky Motherlode reader. (Thanks, Claire!)
The "Truly Blessed" necklace is made by designer Karibou and retails for $60. It is sterling silver and the two dainty tags bearing the "truly blessed" sentiment hang on a 16-inch chain with an extender. I've seen it in person, ladies, and I can tell you that it would be a special addition to any mom's accessory collection. It's great for dressing up or for everyday wear when you're chasing little "blessings" around the house.
HOW TO ENTER: If you'd like a chance to win the necklace, throw your name in our online hat by sending us an e-mail or clicking the word "comment" below. Then tell us how you have been blessed by motherhood. I'll go first: "Motherhood has made me a stronger woman and has made me appreciate what a miracle it is to have a child." Tell us what motherhood has done for you. You don't have to be a great writer to win this necklace! We pick our winners at RANDOM, so everyone has a chance to win.
If you'd like a few extra chances to win, just e-mail your friends/family to let them know about this website and giveaway, and we'll put your name in the hat again for every friend you tell. Tell 10 friends and get 10 chances! Easy as that. Just be sure to CC us on the e-mail so we can give you credit for helping us spread the word. Our e-mail address is mamas@nwaMotherlode.com.
Looking forward to reading your comments and e-mails! Good luck to those who enter. We are all "truly blessed."