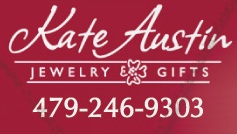 Today we welcome a new Motherlode sponsor — Kate Austin Jewelry & Gifts in Rogers. They're located in the Tuscany Square shopping plaza off Pleasant Grove Road (a few doors down from Mad Pizza).
If you are into accessories, this shop will soon become a favorite. I really love the way the shop is organized. If you need an accessory that has some red in it, it's already grouped together for you by color. A spot for green, brown, pastels, silver, gold — you name it. I recently bought a dainty little butterfly necklace there (from the Firefly line) and I really love it. I particularly appreciate that, even this piece that cost me only $38, is guaranteed for life by the manufacturer. Impressive.
Owner Claire Branscum is a fellow mom and was kind enough to answer our nosy questions about her great accessories boutique. Read on:
Since Kate Austin isn't your name, tell us how you came up with the name for the shop?
It is a combination of my daughter's first name and my maiden name, which was Austin. Since there is already a well-known jewelry chain called by my first name (Claire) we decided to come up with something else that would be classic and appealing.
As a busy mom of 3, what inspired you to take on the challenge of running your own jewelry boutique?
God used several different circumstances in my life at that time that caused me to take the risk to do something I never imagined doing before. I can't say that it was just one thing or another. There's no doubt that providing for my kids was a large part of the motivation to pursue this opportunity.
What are some of the most popular items in the store right now?
Pandora jewelry is still a huge seller as well as the "Mom" necklace I designed and we introduced for Mother's Day. We also sell a lot of crosses this time of year for Easter, confirmation and graduation gifts.
Besides your wedding ring, what's your favorite accessory in your wardrobe and why?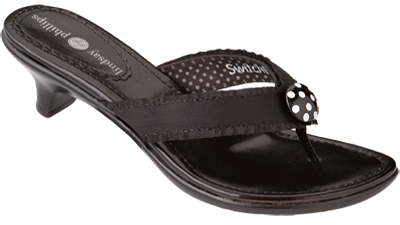 If flip flops could be considered an accessory I would definitely say that I adore them!! They are so comfortable and are an inexpensive way to add character to an outfit. We have a new heel style at the store that is even appropriate for the office. ("Switchflops" are shown here, and the straps can be changed to coordinate with different outfits.)
What are the current trends in accessories?
Scarves are definitely big still and will be the new "necklace" even for summer. We have some light weight scarves that can even be paired with tank tops.
What are the most common fashion mistakes people make when it comes to accessorizing?
The most common mistake I see women make is wearing jewelry that is either too large or small for their body type. Also, many women think that earrings and necklaces have to "match". The trend right now is that they should complement each other, but that they don't have to be a perfect match.
Your shop is still fairly new, so what do you wish more women knew about Kate Austin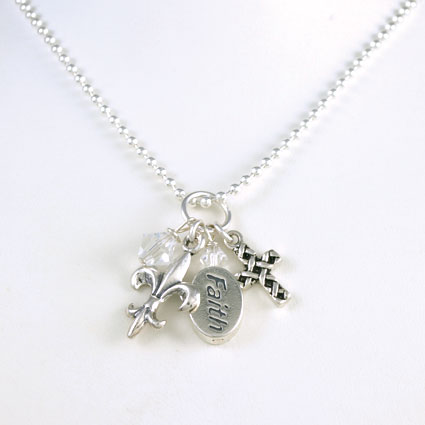 Jewelry & Gifts?
The biggest misconception that we try to overcome on a daily basis is that we are not a "fine" jewelry store. Many customers are afraid to walk in because they immediately assume that they cannot afford jewelry. We have jewelry to suit any budget. (The Kate Austin "Faith" necklace pictured at right is only $32. There are similar designs with the words "Hope," "Peace," "Friends," or "Love." Click the photo for more details.)
What's the toughest part of balancing motherhood and small business ownership?
Time management is huge. I think you have to accept that there are some things that will fall through the cracks that might not have before you were working. Forgiving myself for not getting everything done perfectly all the time is important to remaining balanced. We've also become very protective of our family time and have scaled back on "extra" activities to make sure that we keep that intact.
If you had three hours to spare and your kids were busy and the shop was fine, what would you do for fun?
I would go to lunch with a friend and indulge in a pedicure (so I can wear my flip flops).
(Claire Branscum, owner of Kate Austin Jewelry & Gifts, is pictured below. If you need help finding accessories that are the right size for your body type, Claire is a great person to ask.)
Final note: You should also know that this shop will put your gift items in a nice bag with pretty tissue paper, so you'll save the time and expense of wrapping it yourself. That's always a plus in my book. Have fun exploring this jewelry and gift shop. I know you'll enjoy it. Happy shopping!