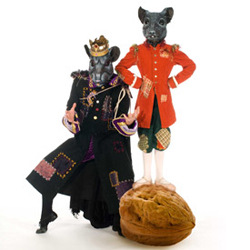 The year Mike Walker's daughter, Adeline, turned 5, he took her to see The Nutcracker for the very first time. A father-daughter tradition was born.This holiday season marks the third year they'll share this magical production together."I just thought there aren't many things we get to do together that she really likes, so this is something we can do every year," Mike said, adding wryly, "Before she gets too old for me."Addie loves the mice battle scene and Mike enjoys the music."I really just enjoy being able to sit with her," he said. "It's a day we both look forward to. It's our main tradition that's just the two of us. No matter how busy it gets, we take the time to get dressed up and go."Mike's wife, Christy, stays behind with their younger daughter Caroline, 3. Addie's little sister will be able to go, too, when she turns 5.
Families can start their own traditions this weekend with a visit to Walton Arts Center for Aspen Santa Fe Ballet's production of The Nutcracker. With the help of a local children's cast, the Aspen Santa Fe Ballet Company will perform the show four times over Thanksgiving weekend: Friday, Nov. 27 at 8 p.m., Saturday, Nov. 28 at 2 p.m. and 8 p.m. and Sunday, Nov. 29 at 2 p.m.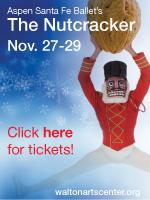 The ballet company ventured to Fayetteville in August to audition local boys and girls ages 5-17 for the 68 extra roles in the production. After a local cast from 25 area dance studios was selected, they immediately began rehearsing. Twelve-year-old Peyton Etzel from Rogers has been dancing in productions of The Nutcracker since she was six years old. She is excited to finally get to perform as Clara with the Aspen Santa Fe Ballet and says, "It's a dream come true!" She is currently with Classical Ballet Academy in Bentonville and one day hopes to dance professionally.
Vice President, Learning and Engagement at Walton Arts Center, Laura Goodwin, explains that "performing in The Nutcracker is not only a chance for the cast to refine their technique but also polish their acting skills. That's a very different experience than most young dancers have in a studio recital and Walton Arts Center is proud to be able to provide this unique opportunity."
Perhaps the most popular of all ballets, The Nutcracker has been delighting audiences for generations. A fairy tale-ballet consisting of two acts and three scenes, The Nutcracker is the story of a young girl who dreams about a Nutcracker Prince and a fierce battle against a multi-headed Mouse King. Adapted from a well-known book by E.T.A. Hoffmann and set to music from legendary composer Peter Tchaikovsky, this romantic era story is brought to life by lavish sets and jaw-dropping choreography performed by the expert dancers of Aspen Santa Fe Ballet.
This is the Aspen Santa Fe Ballet Company's third visit to Walton Arts Center, and Northwest Arkansas audiences have cherished every visit. Aspen Santa Fe Ballet has developed into one of the largest presenters of dance in the United States and become internationally recognized as a leader in the world of ballet. Called "an engaging and spirited troupe" by the Newark Star-Ledger, they have become highly-sought after by audiences and choreographers alike.
Tickets range from $28.50-$52.50 and can be purchased by contacting the Walton Arts Center's Box Office at 479.443.5600 or by visiting waltonartscenter.org. Click here to buy your tickets!
Head's up! Holiday Market Opens Friday, November 27:
In the spirit of The Nutcracker, Walton Arts Center will open a Holiday Market from Friday, November 27 to Wednesday, December 16. Vendors will be selling jewelry, books, soaps, pottery, stationery, painting, Christmas décor and other festive gifts in McBride Studio one hour before and after each performance, as well as during intermissions.