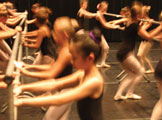 If you've got a dancer in the house, good news! Walton Arts Center will hold children cast auditions for Aspen Santa Fe Ballet's production of The Nutcracker on Friday, August 28, from 3 to 7 p.m. in WAC's Starr Theater and McBride Studio (495 W. Dickson St.)
The internationally acclaimed Aspen Santa Fe Ballet returns to Northwest Arkansas for the third time to present The Nutcracker, Friday, November 28, through Sunday, November 29.  Tickets range from $28.50 to $52.50 and can be purchased by calling the Walton Arts Center Box Office or visiting waltonartscenter.org.
Local dancers, actors and athletes ages five to 17 are encouraged to audition.  Audition registration forms may be downloaded at waltonartscenter.org.  Performers must submit their completed registration form with photo 30 minutes prior to the audition. Audition attire for girls should consist of a dark leotard, pink tights and ballet slippers (no pointe shoes). Hair should be in a bun. Boys should wear a white t-shirt and dark tights, bike shorts or sweat pants. Once the local roles are cast, performers must attend weekly rehearsals.
Audition Schedule:
Girls & Boys, ages 5-7, 4 to 4:45 p.m. (dance experience required)

 

Boys, ages 7-13, 4 to 5 p.m. (no dance experience required – athletes and actors welcome)
Girls, ages 10-14, 5 to 6:30 p.m. (ballet experience required)

 

Girls, ages 7-10, 5 to 6 p.m. (ballet experience required)
Girls, ages 14-17, 7 to 8:30 p.m. (ballet experience required)
Auditions will be led by ASFB School Director, Melanie Doskocil, and ASFB Executive Director, Jean-Phillipe Malaty.  Malaty hails from the Basque region of France and received ballet training from schools in Belgium and Germany before he was personally invited to study at the David Howard Dance Center in New York City. Malaty has performed soloist roles as a guest artist with various companies throughout the U.S., including Joffrey II, Los Angeles Classical Ballet, Ballet Hispanico of New York and the Lyric Opera of Chicago. He has also taught at schools and universities across the country as a guest teaching artist.
"We are looking forward to returning to Walton Arts Center for the third time and working closely with the Fayetteville dance community," Malaty said.  "We hope that students will come away with a unique experience as a result of working alongside a professional company. This will be an experience that young dancers will remember for years to come."
Opportunities for children to work in-depth with artists are a vital part of Walton Arts Center's learning programs, said Laura Goodwin, Vice President of Learning and Engagement. "The Nutcracker children's cast will interact with national and regional artists as they explore the skills and processes used in creating dance," she said. "We are thrilled to work with Aspen Santa Fe Ballet again.  In addition to their excellence as performers, the company shares our commitment to dance education."
For more information about The Nutcracker audition, visit waltonartscenter.org or call the Walton Arts Center Box Office at 479.443.5600.