By Sarah Martin Hood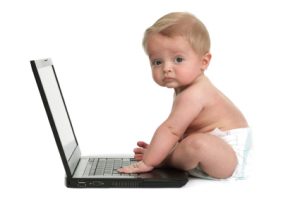 I know. I know. It seems nuts. But it's true. My two year old has his very own email address. It's free, it's easy to set up — and unless something better comes along, he may just need it one day.
And I may not be alone. Consider these statistics, from a recent survey conducted by Antivirus maker AVG:
The average age children acquire an online presence is 6 months.
More than 70% of moms post photos of their baby or toddler through social networking sites like Facebook.
81% of kids have a "digital footprint" by the age of 2.
33% of kids have had photos posted since birth.
23% of parents upload pre-birth photos to the internet.
(And just to prove I'm not the only one!) 7% of infants have an email address!
So there you have it. Babies are online. And those of us who live and play in Blogland or Facebookville are constantly faced with the endless stream of questions.
Is it really ok? Should I use his real name? Is it ok to post photos? Just my family and friends can see it, right? How will my kiddo feel about this when he's old enough to read my blog? Should I make my blog private? Or am I vague enough with our information that I feel safe?
The problem is that it's like most everything else with parenting — there are more questions than answers, and the more people you ask for advice the quicker the differing opinions will start to pile up. You'll have friends that refuse to post photos of their kids (or even of themselves) and use pseudonyms or nicknames in place of all names.
And then you'll have friends that Tweet every pregnancy symptom, Facebook every update from the delivery room, share Baby's First Photo within minutes of the birth, then launch a blog chronicling their daily lives, complete with photos – all properly tagged and dated. (I see a few of you nodding and smiling.)
No right or wrong. We all have different levels of comfort with our online footprint. And we should be as respectful of our children's digital footprints as we are of anything.  No one can tell you what's right or wrong for your family. Online privacy can be as personal a decision as discipline methods or breastfeeding.
You've probably heard a story or two about what can happen if someone gets your information off the internet. We all have. But much like tragic news stories of car accidents don't cause most of us to swear off riding in cars, stories of misuse of the internet shouldn't scare us away from a very useful and convenient technology.
Those stories of terrible car accidents teach us to use caution and wear our seatbelts — and teach our children those same habits. So maybe the same applies to technology and the internet. The reality is we can't hide from technology. And we can't shield our kids from the future. But we can be smart about how we protect their privacy and proactive about the lessons we teach them.
So put some thought into your kiddos' digital footprints. Be smart about it. And teach them about technology. Tell them stories of how you grew up before the internet even EXISTED! But be sure and teach them to always, always wear a seatbelt.
Sarah would love to hear from you with questions or feedback regarding gadgets, technology, or blogging. You can also stop by Sarah's personal blog, Musings of Mother Hood to say hello. To read previous installments of Techno Mama, click here!