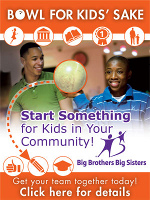 We've all heard of Big Brothers Big Sisters, right? You might not know this, though: One of the organization's most  important fundraisers every year is an event called Bowl for Kids' Sake. All the money raised during the event is used to match children ages 6-14 with carefully-screened Big Brother and Big Sister volunteers.
If you like to bowl (it doesn't matter if you're a hotshot lane master or a gutter queen) you can have fun while helping the kids who benefit so much from Big Brothers Big Sisters.
All you have to do is form a five-person bowl team. That's you plus four of your colleagues, friends, neighbors and/or family members. Designate a team captain who will be responsible for registering your team on the web, fax or email (see instructions at the bottom of this post).
The team captain is also responsible for encouraging and supporting each team member to raise a minimum of $100 per person. That's easy when you think about it this way: To raise $100, all you have to do is get 10 of your friends, neighbors, co-workers and family members to donate $10. Done and done.
Even though we may have heard about Big Brothers Big Sisters, we don't always know what's going on with the program at the local level. Let us tell you, there are some amazing stories out there about the awesome "Bigs" who are paired with very special "Littles".
We recently met Mary Beth from Springdale, mom to 8-year-old sports fanatic and "Little", Ovi. Mary Beth said Ovi's father was in the picture early on, but his job kept pulling him further and further away from the family. Now the only contact Mary Beth has with him is the occasional phone call, but he never leaves a phone number. She has no way to contact him.
Mary Beth has been purposeful in placing Ovi in activities where he'll have strong role models to look up to and learn from. She seeks out sports programs that assist her in building Ovi's character.
Right now, her tall second-grader is on an Upwards basketball team. He also plays golf, tennis and soccer. And he loves karate.
Although Mary Beth has hand-picked Ovi's extracurricular activities, she wanted him to have a more one-on-one relationship with a male role model. When she heard about Big Brothers Big Sisters from a friend, she applied. The process was lengthy, but Ovi finally met his "Big" last September.
"He's just a perfect match for my son," Mary Beth said. "Ovi adores him."
Mary Beth said Ben is a college student at the U of A who lives in the dorm. He's into sports, music and is an engineering major (incidentally, Ovi's father is an engineer).
"Ben is an upstanding, responsible, well-rounded kind of guy," Mary Beth added. "He has impressed us in every way."
Mary Beth said Ben calls Ovi during the week and hangs out with him on the weekends. They might go shoot some hoops, play mini golf or just visit at Ovi's house.
Earlier this month, Ben showed up unexpectedly on a Thursday. It was Ovi's birthday and he wanted to bring presents and just be there for Ovi. He also went to Ovi's basketball practice that night.
Ovi did not receive a call or gift from his father.
"I just wish that we could have found Ben sooner," Mary Beth said. "But I know that things unfold the way they were meant to."
To register for Bowl for Kids' Sake via the web, click HERE or go to http://bfksnwa.kintera.org and complete the forms under the Participant Registration link. To register via fax or email, call 479-756-5683 or send an e-mail to jaibangbee@bbbsnwa.org and request a Team Captain Form.
Once you have completed the form, fax or email it to 479-756-0147 or jaibangbee@bbbsnwa.org.
BOWL DATES:
Thursday, February 17 at Ozark Lanes from 6-8pm (College Bowl)
Thursday, February 24 at Arkoma Lanes from 6-8pm (Siloam Springs Bowl)
Thursday, March 3 at Fast Lane from 6-8pm (Community Bowl)
Saturday, March 5 at Ozark Lanes from 1-3pm (Tyson Bowl)*
Saturday, March 12 at Ozark Lanes from 1-3pm (Bank Bowl)*
Thursday, April 7 at Fast Lane from 6-8pm (Community Bowl)
Thursday, May 5 at Fast Lane from 6-8pm (Walmart Bowl)*
Monday, May 9 at Rogers Bowling Center from 6-8pm (Walmart Bowl)*
Tuesday, May 10 at Rogers Bowling Center from 6-8pm (Walmart Bowl)*
Thursday, May 12 at Rogers Bowling Center from 6-8pm (Walmart Bowl)*
*OPEN BY INVITE ONLY