We love it when we come across a new business in Northwest Arkansas that has something fun to offer. The other day we got a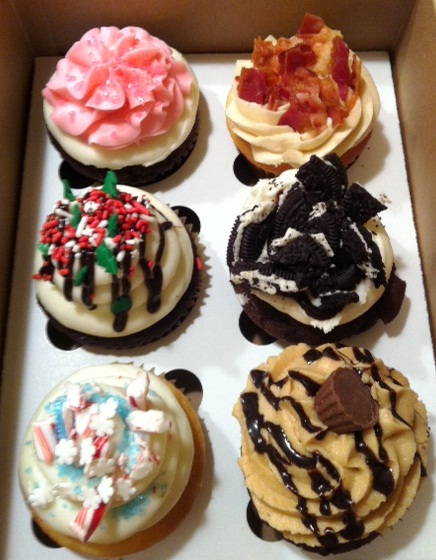 gift package from a friend who sent us something from a new shop over at the Pinnacle Promenade Mall in Rogers. It's called the Savoy Tea Company, and it's nestled between Stride Rite and Gordon's Jewelers. Our package contained three containers of gourmet loose leaf tea and six of the prettiest cupcakes I've ever seen.
The cupcakes were almost too pretty to eat, but we got over that pretty quickly and chowed down. They were as tasty as they were pretty! Here's a photo I snapped with my iPhone on the right.
If you know a tea or coffee lover, a gift package from this shop would make a great last-minute, no hassle gift idea. Who doesn't like a hot beverage and a cupcake? We think this would also make a great gift for a neighbor, co-worker, boss, friend, minister, etc.
I popped in there a couple days ago to buy my husband some loose leaf tea and spoke with one of the owners, who told me the cupcakes are made fresh daily. And there's room in the shop to sit and sample tea or coffee and eat a cupcake (or two or three) before you resume your shopping at the mall. Check it out, mamas. We think you'll like it.
If you'd like to talk to the shop owners about a Christmas gift order, here's the phone number: 479-372-4995. You can see more of their fun creations on their Facebook page by clicking HERE.