By Shannon Magsam, #IamASmartie
Note from the mamas: Congratulations to Ambre Brewster, winner of the Smarties assortment! We also want to congratulate Ambre on the recent birth of her third baby, Ethan!
Peace out, mamas!
My daughter had an impromptu baking party at our house last week with several of her besties. I couldn't help but get involved and while the girls made cupcakes, I made a peace sign cake. Since Gwen and I are Smarties Ambassadors* this month, we received a fabulous assortment of Smarties from Liz Dee at Union, N.J.-based Ce De Candy for inspiration.  There were the traditional candy roll Smarties, X-treme Sour Smarties, Mega Smarties, Smarties movie theater box, Double Lollies, Tropical Smarties, Smarties in pouches, and Smarties Candy Money. I used the traditional candy roll Smarties to decorate my groovy cake: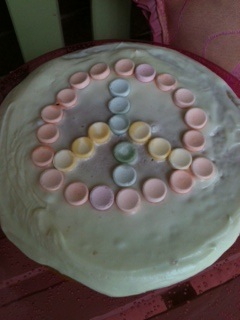 Needless to say, with a bowl full of Smarties candy in front of them, the girls had lots of choices for decorating their goodies. They made all kinds of curious creations, one just in time for Halloween. Mega Smartie Eyeball Cupcake, anyone?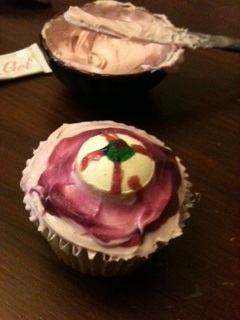 We really enjoyed trying some of the Smarties products we don't always see in stores, especially the X-treme Sour Smarties. I'm officially addicted. The Double Lollies were also tasty and super cute (and perfect for making those lollipop ghosts!). So would you like to win your OWN huge assortment of Smarties products? Eight different types of Smarties will be delivered to the winner's door!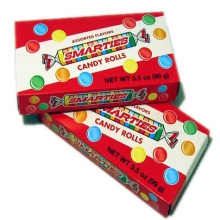 GIVEAWAY DETAILS: If you'd like to UPS to show up with a big box of Smarties goodness, it's easy to enter this giveaway (as always, right?) Just click on the comment button below and tell us which Smarties flavor you like best in the traditional candy roll. FYI, the flavor of each color is: White = Orange/Cream; Yellow = Pineapple; Pink = Cherry; Green = Strawberry ; Purple = Grape; and Orange = Orange. I think green is queen and Gwen is positive it's pink.
ABOUT SMARTIES: Ce De Candy, Inc. has been owned and operated by three generations of the Dee family since 1949. On January 10, 1949, Edward "Eddie" Dee brought his family from England to New Jersey. Equipped with only two machines, a rented facility and a lot of ingenuity, he succeeded in founding Ce De Candy, Inc., makers of Smarties®, America's favorite candy wafer roll.
Eddie opened his first factory in Bloomfield, New Jersey in August, 1949. He proceeded to move the company to Elizabeth, New Jersey in 1959 and finally to Union, New Jersey in 1967. Eddie also created Ce De Candy, Ltd. in Canada, opening a factory on Queen Street in Toronto, Canada, in 1963. Later, he moved the operation to a new Canadian facility built in Newmarket, Ontario in 1988 to make more Smarties® and "Rockets®" (as they are called in Canada).
Smarties® are made 24 hours a day in two candy factories located in Union, New Jersey and Newmarket, Ontario. The company produces billions of Smarties® rolls each year.
*This project has been compensated as part of a social shopper insights study for #collectivebias" All opinions courtesy of the mamas.