Happy Monday, mamas! There are only 6 more days until Halloween, so we thought we'd share a few recipes we found online for spooky Halloween goodies. The pumpkin spice cupcake sea creature pictured above really jumped out at us, and we're betting it would earn you some "cool mom" points if you whipped these up this week… and perhaps earn even more cool points if you let the kids help you create the green tentacles. You can see this recipe and several more on the Readers Digest website by clicking here. Have fun!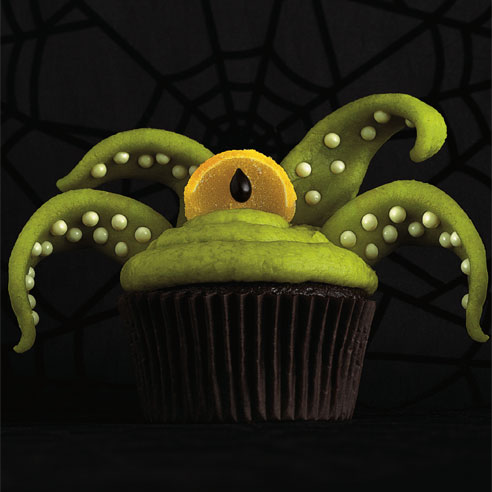 Recipe from Ghoulish Goodies, by Sharon Bowers
The tentacles are made from purchased marzipan, an almond paste available in the baking section of most supermarkets. Marzipan provides a sort of ready-to-eat play dough that you can color green by kneading in paste coloring. I strongly recommend paste coloring when working with marzipan – liquid color will change the texture and the marzipan tentacles won't stand up correctly on top of the cupcake.
Cupcakes:
1 ¼ cups all-purpose flour
1 teaspoon baking soda
¼ teaspoon salt
2 teaspoon pumpkin pie spice
½ cup (1 stick) butter, at room temperature
½ cup sugar
½ cup molasses
1 egg
½ cup hot milk
For assembling the cupcakes:
1 recipe Cream Cheese Frosting
Green paste coloring
12 orange or lemon gummy fruit slices
12 chocolate-covered sunflower seeds
2 (7-ounce) cans marzipan
Pearl or Silver dragees
Directions:
1. Preheat the oven to 350˚F. Line one 12-cup muffin tin with paper liners.
2. Sift the flour, baking soda, salt, and pumpkin pie spice into a medium bowl and set aside.
3. Beat the butter and sugar in a large bowl until light and creamy. Beat in the molasses and the egg. Add the flour mixture and stir just until combined and then blend in the milk. Spoon the batter into the liners.
4. Bake for 16 to 18 minutes, until a toothpick inserted into the center of a cupcake comes out clean. Cool in the pans for 10 minutes, and then turn the cupcakes out onto racks to cool completely.
5. Color the cream cheese frosting green with a dab of paste coloring. Put the frosting in a pastry bag fitted with a plain, midsize tip (such as a U7 tube), pipe the icing on top in wide, concentric circles, starting at the outside and spiraling inward to a slightly domed center, like a coiled rope. (You can also use a ziplock bag with one corner cut off, but your coil won't be quite as evenly rounded.)
6. Use a bit of frosting to stick a chocolate-covered sunflower seed in the middle of each gummy fruit slide and set them aside.
Rolling Marzipan
Because marzipan is sticky and may tear if handled too roughly, it helps to follow a few simple steps:
1. Wet a clean dish towel, wring it out, and lay it flat on the counter.
2. Place a large sheet of wax paper directly on the wet cloth.
3. Lay the marzipan disk on the wax paper and cover with a second large sheet of wax paper.
4. Roll firmly but gently. The wet towel will prevent the wax paper from slipping on the surface. If the top sheet wrinkles as you roll, keep pulling it smooth so the marzipan beneath won't wrinkle.
5. To cut the marzipan, place it, still sandwiched between the 2 sheets of wax paper, on a cutting board. Lift off the top sheet and cut the tentacles out directly on the wax paper.
6. Set up a stain-proof work surface, such as a large, flat platter or a large sheet of parchment, and, wearing latex gloves to protect your hands from the coloring, knead the marzipan until it becomes softened and malleable. Make a dent on the surface and dab on some green paste. Knead the color through the marzipan, adding more as necessary to achieve a lurid shade, and pat the marzipan into 4 disks about 3 inches in diameter.
7. Using a rolling pin to roll each disk out to a thickness of ¼ inch. With a tip of a sharp knife, cut each disk into 12 triangles 3 to 4 inches long and about ¾ inch wide at the base. Press dragees all over one side of each triangle
8. Stick a gummy fruit slice, rounded edge up, in the center of each cupcake.
9. Using the blade of a knife or an offset spatula to life the marzipan triangles from the cutting board, place 4 tentacles on each cupcake, around and behind the fruit slice eye, curling and twisting each tentacle downward as you place it (the dragees should be on the underside of each curl).
10. These are best eaten within 24 hours, before your tentacles begin to droop, but they can be stored, tightly covered, for up to 4 days.
Click here for more Halloween treat recipes!
Mealtime Mama is sponsored by Chick-fil-A on Razorback Road, owned by Paige Frost.  As fellow moms, we know you can appreciate that Chick-fil-A earned the award for America's Healthiest Chain Restaurant for Kids by Eat this Not That for Kids. It's a quick dinner choice that's never tricky and always a "treat." Happy Halloween!