We've got big news today! With the help of some local mom-friendly businesses, we're giving away a FULLY STOCKED BRAND-SPANKIN' NEW REFRIGERATOR!
The refrigerator — a Whirlpool side-by-side fridge with ice in the door — is from our sponsor Metro Builders Supply, located in Springdale. You might remember that last spring, Metro gave away a front-loading washer and dryer set on our website. The response was huge, so we're doing it again. Here's a glamour shot of the refrigerator. And yes, you can pick the color — white, black or stainless steel — to match other appliances in your home. Click on the photo to read more about it.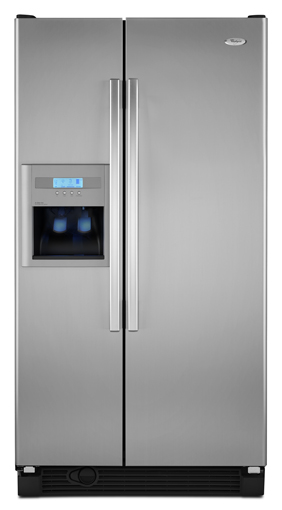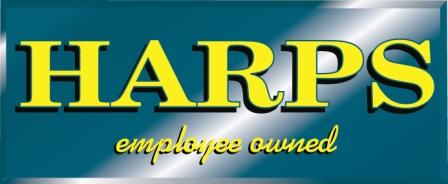 Get this — not only do we have the brand new refrigerator, it also comes with a $200 gift card from Harps Grocery store so you can go out and stock your new fridge with plenty of food — right before Thanksgiving!
AND there's more. Local protein giant Tyson Foods is also kicking in

another $100 in free Tyson products that you can also pick up at Harps to put in the freezer side of the brand new fridge. HOW COOL IS THAT?
HOW TO ENTER: Since this giveaway ends shortly before the Thanksgiving holiday, we're asking you to throw your name in the hat by clicking the word "comment" below, and then tell us something (or a few things) you're thankful for this year. (You can also enter via e-mail by writing to us at giveaways@nwaMotherlode.com.)
We'll get things started: We're thankful for our families and friends, our readers, and also for the very generous businesses that have helped orchestrate this HUGE giveaway that we know will make a local mom really happy. (Metro Builders Supply, Harps and Tyson — you guys are awesome. Thanks!)
HOW TO IMPROVE YOUR ODDS: We know how much moms like to talk, and we're going to give you an advantage in the drawing if you'll do a little talking for us. Help us spread the word about this giveaway by sending an e-mail to your friends/family, and we'll give you an extra chance to win for every friend you tell. Just be sure to put giveaways@nwaMotherlode.com on the CC line of your e-mail so we can give you proper credit.
THE SURPRISE TWIST: Since this is our second time to give away a major appliance with a hefty price tag, we wanted to add a little something extra this time that will also help a local charity group. If you go by Metro Builders Supply and drop off a few canned goods for our food drive, you will have the option of choosing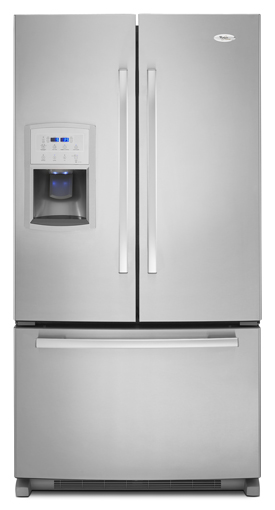 EITHER a Whirlpool side-by-side refrigerator like the one pictured above OR the popular French Door style, like the one seen here.
The choice is totally up to you, but the Whirlpool French Door style pictured here (in your choice of either stainless steel, black or white) will only be given to someone who has dropped off a few non-perishable food items at the Metro Builders Supply store in Springdale. Consider it a little extra incentive for helping us collect food! Drop off the food anytime between now and November 20th, and be sure to sign up at the store so we'll know you helped out with the food drive and are eligible for the French Door style.
While you're in the store, you can check out the fridge in person. But please DO NOT worry that you'll be held captive for a sales pitch. Trust us, we would never do that to our fellow moms. We know you're busy. If you want to get more info on the fridge, the sales staff at Metro will fill you in. If you just want to drop off your canned goods and throw your name in the drawing, that's cool, too. If you click HERE to see our spring giveaway with Metro Builders Supply, you'll see comments from local moms about the sales staff at Metro, and they received high marks for being mom-friendly and never pushy.
THE CHARITY: The food you drop off at Metro Builders Supply over the next two weeks will be going to Saving Grace, a new non-profit in Northwest Arkansas that offers affordable housing, mentoring and

guidance to young women aging out of the foster care system. The food will go into the kitchen at the Saving Grace dormitory which opens this month! (Click here to read more about the organization.)
Each young woman at Saving Grace will be responsible for cooking for herself. Here's a list of suggested items to bring for the Saving Grace kitchen:
Canned fruit: pears, peaches, pineapple
Canned veggies: corn, green beans, peas
Canned meat: tuna, chicken
Macaroni and cheese
Soup
Dry chicken noodle soup
Granola bars
Crackers
Tea bags
Pre-sweetened lemonade
If you can't decide which type of fridge you want — the side-by-side style or the French Door style — click here to see an article we wrote earlier this year about the differences between the two styles. (Personally, I have the French Door style and love it because I can easily fit wide platters, deli trays, etc. in the fridge when we're having guests, a definite bonus during the holidays.)
We'll pick a winner AT RANDOM on Friday, November 20th and we'll publish the news soon after. If you win, you'll get a very exciting e-mail from us. Good luck!
PS: Come back to the website tomorrow for a video tour of the new fridge we're giving away!