Thanksgiving is just a few weeks away, which reminds us of one of the things we are most thankful for here on nwaMotherlode.com — THOSE BIG FREAKIN' APPLIANCE GIVEAWAYS FROM METRO APPLIANCES & MORE! This week we're thrilled to be giving away a brand spankin' new stainless steel refrigerator, courtesy of Metro Appliances & More. It's a 26 cubic foot Frigidaire Gallery refrigerator in a Smudge-Proof Stainless Steel finish! Behold the glamor shot below: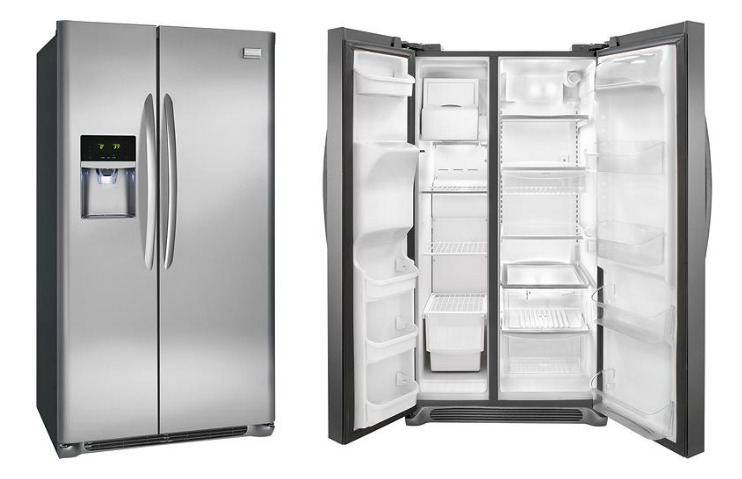 Wouldn't a new fridge look awesome in your kitchen, just in time for Thanksgiving when you and everybody else in the family will be in and out of there constantly? This one has designer lighting, SpillSafe glass shelves, touch-button controls, best-in-class filtration for better-tasting water and ice, and more than 100 different ways to organize and customize the fridge interior.
This refrigerator would normally cost more than ONE THOUSAND THREE  HUNDRED DOLLARS, but it will be absolutely free (and delivered to your kitchen) if you're the lucky mama whose name is drawn out of our online hat at the end of this week. (Winners are ALWAYS chosen at random using a random number generator.)
"BUT I DON'T NEED A NEW FRIDGE:" Yes, we know there are many of you who may be in love with the fridge that's already in your kitchen. And if that's the case, you should still throw your name in the drawing because, if you win, you could GIVE this free refrigerator to a family (or a non-profit organization) who could really use it. Think about what a blessing it would be to give it away. It would give a whole new meaning to the words "thanks" and "giving." HOW TO ENTER: To throw your name in the online hat, click on the words "post a comment" below and tell us about something that has happened this year that you are thankful for. You can also enter the giveaway via email by sending your answer to giveaways@nwaMotherlode.com. HOW TO INCREASE YOUR ODDS OF WINNING: We've got three different ways you can score extra entries for this giveaway valued at more than one-thousand buckaroos. (If you like, you can do all three of these things for even more extra chances.) 1. Email your friends/family and let them know about the giveaway. Be sure to put giveaways@nwaMotherlode.com on the CC line of your email and we will give you an extra chance to win for every person you send the email to. 2. Come visit the fridge in person at this weekend's NWA Boutique Show! We'll have this fridge at the nwaMotherlode booth at the NWA Boutique Show. Come by and say hello, and while you're there you can toss your name and email address into the refrigerator's crisper drawer. All those names will also be entered into the online drawing. 3. Send us one of your favorite recipes for possible use in our "Mealtime Mama" recipe collection featured here on the website. Email the recipe to giveaways@nwaMotherlode.com and we'll give you another entry into the drawing for the refrigerator. Be sure to also let your Facebook and Twitter friends know about the giveaway, too! We love it when mamas help spread the word.
Note: Be sure to put Metro Appliances & More on the top of your "must see" list the next time you need any type of appliance. They have an enormous showroom and the best staff we've ever encountered when it comes to customer service. They know the details on each appliance and are helpful without being pushy. That's a tough thing to find these days. Metro has also sponsored this huge appliance giveaway on nwaMotherlode.com for the past four years which shows how much they appreciate local women and mothers. Thank you, Metro!
Good luck in this week's "Big Chill" giveaway! We'll email the winner early next week so please keep an eye on your email inbox!