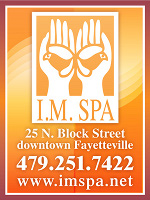 On September 1st, nwaMotherlode.com had a baby sister, and we've named her www.MomsChoiceDirectory.com. Click here to see how cute she is. Today we're going to play a little game with the new website, and a winner will get a spa services at I.M. Spa in Fayetteville, including a $150 raindrop therapy massage, an incredible I.M. the Queen facial and a relaxing hand paraffin dip. We have both been to I.M. Spa and can assure you that it is… heavenly.
Here's how you play the game: We've put a "shopping mama" on two different pages of the Mom's Choice Business Directory. All you have to do is surf the site a little bit and find out what the mama is shopping for this week. Is she looking for frames for her kids' photos? Is she shoe shopping? Look around until you find her, and then e-mail us at giveaways@nwaMotherlode.com with the answers. Hint: She is shopping for two different things this week. We've put her picture below so you'll know who you're looking for, only she won't have the baby with her when you find her. She was lucky enough to find a sitter. 🙂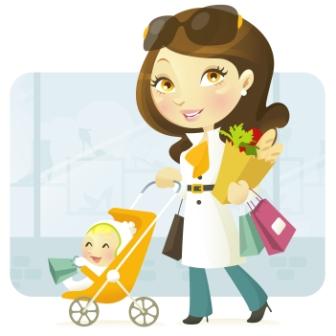 Each person who e-mails us with the correct answers will get their name in the hat for the drawing for a spa day. If you e-mail your friends about the giveaway, you'll get your name in the hat again for each person you tell. Just be sure to put giveaways@nwaMotherlode.com on the CC line of your e-mail so we can give you proper credit.
Remember, you can't post the answer on this site because then it's WAY too easy for everybody else. And our goal here is to show you around the new directory so you'll know how to use it the next time you're hunting for a particular place to shop. Have fun with the "mama search," and please let us know what you think of the new business directory website. We created it because we were getting lots of inquiries from moms on where to find certain things. We hope this resource makes shopping a little quicker and easier for everybody.
Check it out and earn a chance to win some well-deserved pampering at I.M. Spa. By the middle of next week, you could look like the happy mama pictured below! Good luck!