UPDATE! We have a winner. Congratulations to Pamela Marks, winner of the Girlfriend Getaway!
Mamas seem to take care of everything and everybody. Our kids, our husbands, our aging parents, our houses, our jobs. That often leaves us at the bottom of the list.
Exhausted mamas, we're here to help.
How does a "Girlfriend Escape" to the 1886 Historic Crescent Hotel and New Moon Spa in Eureka Springs sound? Yep, you read that right! Today's giveaway is all about taking time for yourself and seizing the day to recharge.
Eureka Springs is beautiful this time of year and one lucky mama + her invited guest will receive the following FREE "escape" package courtesy of the fabulous Crescent and New Moon Spa:
One night stay in a premium room at the Crescent Hotel

2 1-hour massages with soyaffin mitts at the hotel's New Moon Spa

2 Pure Focus facials (or a hand and foot treatment, your choice!)

Breakfast for Two in the Crystal Dining Room restaurant
If you're new to the area, or have never been to Eureka Springs, the historic Crescent Hotel & Spa is THE place to stay and get pampered. And this little gem of a city also has lots of shopping, sightseeing and places to eat.
The Crescent Hotel & Spa has awesome packages right now and you could take advantage of the great deals for all kinds of events like bachelorette parties, mom/daughter getaways, birthday celebrations or reunions with old friends. But first, sign up to win this awesome package!
WANT TO ENTER THE GIVEAWAY?: To throw your name in the hat for the the "Girlfriend Escape" package at 1886 Crescent Hotel & Spa, click the comment button below and tell us why you're in need of a great escape! You can also e-mail your comments to us at giveaways@nwaMotherlode.com.
To increase your odds: Send a note about this giveaway to your friends, and we'll give you an extra chance to win for each person you tell. Just be sure to put giveaways@nwaMotherlode.com on the CC line of your note so we can give you proper credit.
Here are some comments from a mom who recently enjoyed the overnight "Girlfriend Escape" package with her four best friends: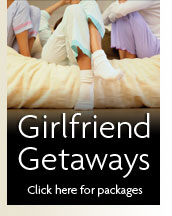 "Give a girl some time with friends, good wine and good food and you can pretty much guarantee hours and hours of good old fashioned talking – and honestly, we were no different, we talked and laughed all night long! We talked about everything; friends, work, challenges, children, childhood experiences, men (of course men!) and our deep and meaningful bond to each other.
… After breakfast the next morning (omelettes made to order, poached eggs with hollandaise, bagels, OJ – it was great! The dining room itself is also very big and grand with huge crystal chandeliers and beautiful tin ceilings) we meandered downstairs to the New Moon Spa & Salon. We were all scheduled for 1 hour massages and we got our choice of a Hand & Foot Treatment or a Pure Focus Facial. It was awesome that we were all able to get in at the same time! The spa is gorgeous and has a very hip and today vibe, in contrast to the historic hotel upstairs, which is very beautiful too.
… I think I can safely say for all of us, we toasted more in the last 12 hours than we have in the last 6 months! We definitely want to do it again…it was a blast!"
To begin planning your Girlfriend Getaway at the Historic Crescent Hotel & New Moon Spa, please call Nicole Egan at 1-800-599-9772. Click here for more information abut the Crescent Hotel and New Moon Spa.