Note from the mamas: We partnered with Produce for Kids to bring you this sponsored post. I think we can all agree that creating a healthier generation is a goal we can all support — 100%! And you can bet we'll be grabbing these brands on our next big grocery shopping day!
You may have read the Produce for Kids post we wrote back in March. ICYMI, this awesome program works to help tackle two very BIG issues right here in Northwest Arkansas:
1) a lack of food for people in need
2) the lack of nutrition expertise on how to shop for and prepare healthy foods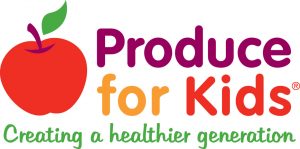 And as parents, we can be a BIG part of the solution to these problems. When you shop at one of the participating stores — Harps and Price Cutter are participating in Northwest Arkansas — you can put certain items in your cart that will help support local Feeding America food banks.
Right now, as the holidays are ramping up, we're especially appreciate that programs like Produce for Kids exist.
How we can step up and help out this holiday season:
Step 1 — Shop at Harps and/or Price Cutter and look for the Produce for Kids signage in the produce department.
Step 2 — Look for the Produce for Kids signs by these brands and products in the produce department and toss them in your grocery cart:
Borton Fruit
Cool Creations
Dole Salads
Growers Vegetable Express
Melissa's Produce
Naturipe
Organicgirl
Sage Fruit
Schmieding Produce
RealSweet by Shuman Produce
Sunkist Growers, Inc.
Just by purchasing a few items made by these brands, you're helping support more than 200 food banks that lead the fight against hunger in the United States. The Feeding America program provides food to more than 46 million people through 60,000 food pantries and meal programs across the country. (The Northwest Arkansas Food Bank is part of the Feeding America program.)
The program also helps to educate the public about the problem of hunger and advocates for legislation that protects people from going hungry.
In addition to what Produce for Kids does for the well-being of our community, it also provides practical advice to parents who sincerely want our kids to grow up with good eating habits that will help keep them healthy for a lifetime. The program's website, ProduceForKids.com, has more than 300 registered dietitian-approved (and family-tested) recipes you can try.
With Thanksgiving and Christmas on the way SOON, you might need to try this "freshened-up" turkey recipe that's on the Produce for Kids website. Apparently the citrus and sage in this recipe offers tons of flavor while keeping the turkey tender and juicy, which is just how we like it:
Ingredients:
8 pound whole turkey, rinsed and patted dry
1 tablespoon unsalted butter
2 tablespoons extra virgin olive oil
1 Sunkist® lemon, zested, quartered
1 large Sunkist® Navel orange, zested, quartered
1 tablespoon chopped fresh sage, plus 6 whole leaves
1 tablespoon chopped garlic, plus 4 whole cloves
1 teaspoon salt
1/2 teaspoon pepper
1 small onion, quartered
Directions:
Preheat oven to 325°F.
Place turkey in roasting pan.
Heat small saucepot over low heat; add butter, oil, lemon zest, orange zest, sage, garlic, salt and pepper. Cook, stirring occasionally, 2-3 minutes, or until butter melts. Let cool slightly and liberally coat turkey with mixture.
Stuff turkey cavities with quartered lemon and orange, sage leaves, garlic cloves and onion.
Bake 2½-3 hours, or until internal thigh temperature reaches 180° and breast temperature reaches 165°. Cool 15-20 minutes before carving.
If you'll have guests at your house for the holidays (or just for your own family on Christmas morning), you might try these Apple Pumpkin French Toast muffins, which you can make ahead of time and freeze. For a sweeter flavor, top with honey or pure maple syrup:
Ingredients:
2 large eggs
2 large egg whites
3/4 cup unsweetened almond milk
1 1/2 tablespoon pumpkin pie spice
1 cup pumpkin puree
1 Borton Fruit apple, finely chopped
1 (12 oz.) loaf French bread, torn into small pieces
Directions:
Preheat oven to 375°F.
Spray 12 medium muffin cups with cooking spray
Whisk eggs, egg whites, milk, pumpkin pie spice, vanilla and pumpkin in bowl until frothy.
Combine apples and bread in separate bowl. Pour egg mixture on top, stir and let sit 5 minutes. Press mixture evenly into muffin tin.
Bake 45 minutes, or until tops begin to brown and are cooked through. Immediately run knife around edges of muffins to loosen and remove from muffin tins.
In addition to recipes, Produce for Kids also has a meal planning tool, lunchbox ideas and healthy tips from fellow parents. (Follow Produce for Kids on Facebook, Twitter, Instagram, Pinterest and Snapchat if you'd like to see new recipe ideas and healthy eating tips throughout the year.) Be sure to bookmark the website for those times when you need specific produce tips.
If you live outside Northwest Arkansas, here's a complete list of the grocery stores participating in the Produce for Kids program: